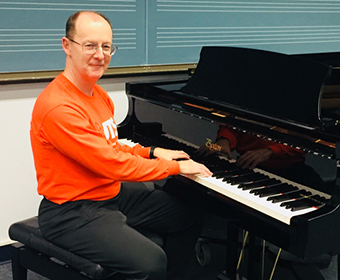 (Jan. 12, 2018) -- John Nix, associate professor of voice and vocal pedagogy in the UTSA Department of Music is recognized as one of the nation's leading voice pedagogy instructors and is the founding director of the UTSA Vocal Arts Laboratory.
His current and former students include members of the Mormon Tabernacle Choir, members of the Army Soldiers' Chorus and faculty members at universities in Montana, Texas, Wyoming and New York, to name a few.
At UTSA, Nix has inspired music students and faculty to get involved with a vocal community outreach project called America Sings Together. Through the project, held on Dr. Martin Luther King Jr. Day, he hopes people across San Antonio and the nation pause to sing portions of "Amazing Grace" together as a sign of unity to honor Dr. King's legacy.
We sat down with Nix to learn about his passion for singing and why he thinks music truly is the universal language.
Why do you believe music can bring people together?
When people make music together, they not only have to sing or play their part, but they also must listen to and coordinate their singing or playing with all the other people performing at that time. It is a shared experience, and a very 'in-the-moment' activity. We feel most alive when we are engaged in emotionally important activities, such as singing.
Can you talk about the America Sings Together project and why it's important?
It's about getting people of all races and religions to stop for a moment and sing together in honor of one of our country's greatest leaders. Many of the concerns raised by the civil rights movement are still serious problems. As a country, we need to keep working to make Dr. Martin Luther King's "Dream" a reality for all Americans.
What would you say to a student who is interested in entering your field?
I would tell a prospective student that it's not only about your singing; you must develop your mind and spirit so you have something to say. Read poetry and literature, go to museums, go see thought-provoking theatrical productions, go hike in the woods and see the beauty of nature, study history, travel and learn how to dance. You must develop good health habits to stay active for a lifetime of singing. You must also learn everything you can about your art and the business side of your art, so that you know how to create opportunities for yourself.
What is an important thing going on in your field that no one is talking about but should be?
In addition to teaching singing, I also conduct research on singing and the human voice. One thing that really interests me is what is going on with our voices as we become more computer and text message-driven in our interactions. Nothing matches the expressive potential of the human voice, and I am afraid if we don't regularly use it, we could lose it, so to speak.
What makes your department at UTSA unique?
It's a cliché to say, "we're like a family," but in many ways, the UTSA Music Department is. We are small enough – we have about 325 music majors – and all the music faculty truly know the students and care about them. I know every voice major by name. I will teach every undergraduate voice performance or choral music education student and every graduate voice student, at some point in their time at UTSA. That's pretty cool!
Where do you find inspiration?
For years, I got inspiration from famous performers: Luciano Pavarotti, Leontyne Price, etc. As I have gotten older, I am inspired by people who make a difference. I recently was in an airport in Atlanta, and I ran into Georgia Congressman John Lewis, one of the original organizers of the March on Washington in 1963. He has devoted his life, and risked his life, to fight against injustice and to look out for other people who are less fortunate. It was a great honor to speak with him. I thanked him for his lifetime of work.