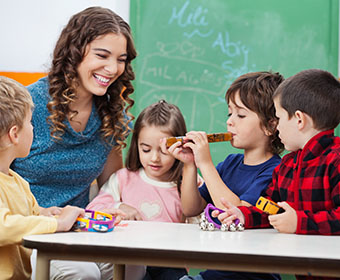 (Jan. 3, 2017) – Students who take classes at The University of Texas at San Antonio (UTSA) Downtown Campus now have a place to take their children while they're learning. Lil' Roadrunners Children's Evening program provides care, learning activities and enrichment for children whose parents are enrolled in evening classes at the UTSA Downtown Campus.
The idea to establish a childcare program for Downtown Campus students began several years ago when then UTSA graduate student Bianca Ramirez '16 started Students Raising Children. Last fall, the advocacy group became a registered student organization at UTSA. Lisa Blazer, UTSA senior associate vice president of Student Affairs, serves as the organization's faculty advisor.
"Some students have had to drop out some semesters because they didn't have daycare in the evenings," Blazer said. "This is an opportunity to recruit and retain more graduate students and support student success."
UTSA student Daniela Salinas '14 took over the initiative after Ramirez graduated. Salinas, the president of Students Raising Children, is pursuing her master's degree in social work from UTSA while raising her 9-year-old son.
"UTSA is my family. Because of its support, I will be able to finish my degree on time," said Salinas.
Lil' Roadrunners is a partnership between UTSA and La Trinidad United Methodist Church, where the childcare will be housed just three blocks from the Downtown Campus. Family Endeavors will staff the center.
Salinas is excited about how the new program will impact her son.
"We are going to make sure these kids are learning while we are learning," Salinas said. "When I graduate with my degree, my child will have gained knowledge as well."
Blazer added, "This will be an enrichment experience for the kids and promote cradle to career education."
As an urban serving university, Salinas believes the childcare program is a great way for UTSA to give back to the city.
"What better way is there for the children to see that the university in their backyard is showing them that college is attainable," Salinas said. "This is an amazing way that UTSA and La Trinidad United Methodist Church are giving back to San Antonio."
Lil' Roadrunners will host a grand opening at 6:30 p.m. on Friday, Jan. 5 at La Trinidad United Methodist Church, 300 San Fernando St., San Antonio. The entire community is welcome.
The center will be open for business beginning Monday, Jan. 8, the first day of UTSA's 2018 spring semester. Childcare is available Monday through Thursday, 4:30 p.m. to 9:30 p.m. for children ages two through 12 years-old. All UTSA students and faculty are eligible to enroll.

"No one will be turned away," Salinas said. "If you are a UTSA student, your child can be a Lil' Roadrunner."