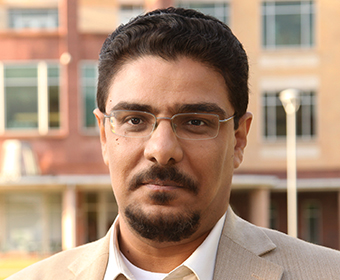 (Jan. 19, 2018) -- Hazem Rashed-Ali is an associate professor of architecture in the UTSA College of Architecture, Construction and Planning. Drawing upon his expertise in clean energy, environmentally sustainable architecture and sustainable urbanism, Rashed-Ali is leading a group of UTSA researchers to address climate change in San Antonio.
Through the Strategic Alliance between the Texas Sustainable Energy Research Institute and CPS Energy, the researchers are developing a local plan to improve local air quality and reduce greenhouse gas emissions. The $500,000 project aims to set local goals for greenhouse gas reduction, further positioning San Antonio as a leader in clean energy initiatives.
We sat down with Rashed-Ali this week to learn about the new research initiative.
How long have you lived in San Antonio? What's your favorite part of the Alamo City?
I came to San Antonio in 2006 from Texas A&M and have greatly enjoyed living here ever since. I have several favorite parts in the Alamo City including the downtown area with all its activities, the missions trail with its historic context, the Pearl Brewery area and Brackenridge Park, among others.
You have an exciting new program underway that will help shape the city's future. Tell us about that.
I am currently leading a team of excellent UTSA faculty in a project to develop a climate action and adaptation plan for the City of San Antonio. This is an interdisciplinary collaborative project that involves faculty from four UTSA colleges and is implemented in close collaboration with both the City of San Antonio and CPS Energy, which provided half a million dollars of funding to the project.
The project, called SA Climate Ready, will result in a strategy document that outlines a collection of measures and policies that reduce greenhouse gas emissions based upon a reduction target, evaluates climate-related impacts and provides strategies to adapt and build resilience. The plan will be completed by Spring 2019.
Why was it important to develop a research team with an interdisciplinary approach?
We needed to tackle the very complex nature of this project and of sustainability issues in general. We have an excellent team including myself, with expertise in the built environment and sustainability, Professor Hatim Sharif from the College of Engineering, who specializes in environmental sciences, Professor John Merrifield from the College of Business, who will conduct the economic analysis tasks within the project, and three faculty members from the College of Public Policy: Professors Rob Tillyer, Francine Romero and Roger Enriquez, who will lead the critical public engagement component of the work. The team also includes Keith Muhlestein, the UTSA sustainability director, who is both an environmental scientist in his own right, as well as an excellent conduit to the UTSA student body, which we hope to engage in this important effort.
The energy industry is moving quickly. What's the most important thing going on right now that isn't being covered by the media?
There are numerous changes in the energy industry and in the sustainability area in general, locally, nationally and internationally. Some of the more interesting topics include utility companies moving away from using coal plants and relying more on alternative sources including renewables. Our built environment is also changing as we design buildings that are more environmentally conscious, that have a smaller impact on the environment or even help in regenerating it. A lot of research is also happening in smart cities, which utilizes data and technology to create efficiencies, improve sustainability, create economic development and enhance quality of life. Other important topics include electric cars and energy storage, both of which offer promising potential for a more sustainable future.
Twenty years from now, what kind of research do you think you'll be doing?
Part of me hopes that there will be no need for me continuing to work on sustainability research because we will have succeeded in addressing these issues over the next 20 years. However, I think the need for research in finding better ways to make our built environment more environmentally sustainable will continue to exist.
What advice would you give UTSA students gearing up for their first jobs in the clean energy industry?
I would advise students to try to balance the need to understand fundamental principles with the necessity of keeping abreast with the quickly changing nature of this field. I also recommend that they try to engage their community either through course projects or internships or any other forms, as this will allow them to gain practical experience while in the same time offering a valuable service to their community.