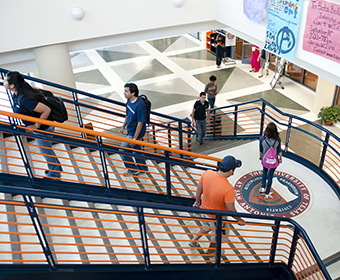 (Jan. 9, 2018) -- The UTSA University Center (UC) is adopting a new name that more accurately reflects its role on the UTSA Main Campus. Moving forward, the complex will now be the UTSA Student Union.
A focal point of campus life at UTSA, the UTSA Student Union (University Center) opened its doors in 1986 and has been a place for Roadrunners to study, relax, network, eat and get involved in campus life. Over the past 30 years, the center has grown alongside increasing enrollment at UTSA to include three buildings designed to serve the needs of students. Every day, thousands of UTSA students come to the Student Union to continue their student development outside of the classroom experience. 
The term student or college union is recognized internationally as a gathering place designed for students and resonates broadly with UTSA students and guests.
The name change is student-directed and was initiated last fall by the University Center Advisory Council. The Council approved a resolution, which was then reviewed and voted in favor by the UTSA Student Government Association.
"There is a lot of excitement about the new name change," said Herb Ganey, director of the UTSA Student Union. "This change will better serve students and allow UTSA to thrive as a place that creates an atmosphere that supports student success."
The name change is effective immediately, but students and staff can expect to see the change fully implemented over the next several months in campus signage, maps, and print and web publications.