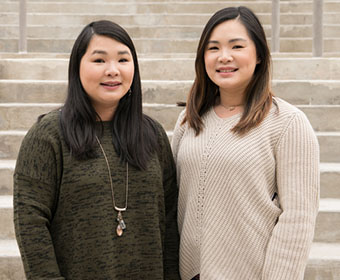 (Jan. 3, 2018) -- Meet Christine '13 and Michelle Wong '12. These twin sisters launched an online boutique in 2014 and haven't looked back.
The Wong sisters moved to San Antonio from Lima, Peru in 2001, attended Clark High School and enrolled at UTSA in 2008.
"Our older siblings went to UTSA and we felt the university was so connected with the city of San Antonio, a close-knit campus community where we could really learn and grow," said Michelle.
Michelle graduated with a marketing and management degree from the UTSA College of Business in the Fall of 2012. Christine graduated with a biology degree from the UTSA College of Sciences in the Spring of 2013.
After graduation, they helped operate their family's restaurant, but Michelle had a business idea of her own. With an eye to fashion and online shopping, she wanted to sell clothing and accessories online.
"While at UTSA, I learned how to incorporate online marketing and advertising into a business plan, and those skills came into play as I launched Zelle Boutique," said Michelle.
Michelle tapped Christine's writing and photography skills for the site.
"I'm a creative person when it comes to Zelle Boutique's social media channels and website. I take photos and make sure the site is visually appealing to catch the attention of our target audience," said Christine.
Zelle Boutique launched in October 2014, and the first sale came a month later from a shopper in Ohio. Michelle and Christine said once they made that first sale, there was no turning back.
The Wong sisters are hands-on with their business. They personally work with vendors to select tops, shorts and accessories that are trendy yet affordable for women ages 18 to 32.
They also inspect the products, package the orders and ship them out to customers as far away as Japan, Australia, Canada and parts of Europe.
In the fall of 2017, Christine and Michelle returned to UTSA to pursue an advanced education in finance and marketing. They're learning from UTSA's world-renowned business faculty.
"If we can do it, you can do it. The fact that we were able to build a business comes down to being dedicated, focusing on the customers and bringing them what they want," said Michelle.