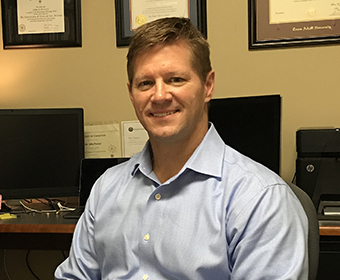 (Feb. 21, 2018) -- Jeff Prevost is an assistant professor of electrical and computer engineering at The University of Texas at San Antonio (UTSA) as well as the co-founder and assistant director of the UTSA Open Cloud Institute. He specializes in cutting-edge cloud computing technology and security innovations.
Last year, he was one of several researchers to join the UTSA Center for Security and Privacy Enhanced Cloud Computing, a pipeline to create well-trained professionals in the cloud computing industry and strengthen San Antonio as a cybersecurity hub. The center is supported by a $5 million grant from the National Science Foundation.
Can you talk about the project you're currently most excited to be working on?
We are using the same technology behind Bitcoin to create a way to secure real-time transactions. The current focus is on the Internet of Things (IoT). Examples of IoT transactions are the sensor and system data being generated by Smart Cities, as well as data from medical monitoring systems like pacemaker data and insulin pumps.
What is the most important thing going on in your field that no one is talking about?
What I hear a little about, but not nearly enough, is how the pace of the data being generated will very shortly overwhelm our ability to build storage devices, unless radically new ways of storing data are found.
Humans have been responsible for the bulk of this data up to now (think Facebook photos and SnapChat videos) but devices now outnumber people on the Internet, and the amount of data they generate is growing exponentially. Some estimates predict that over 25 billion devices will be communicating with each other on the Internet by 2020. We are drowning in data. What we seek and require is information. Will we be able to store all the data being generated long enough to extract the information we need? We will see!
How has your personal journey influenced your work?
Two major ways. First, I am fortunate to have worked in the "real-world" for almost 20 years before joining the university. I try to bring that perspective into both the classroom and laboratory with the goal to enhance the students' experience. Second, having three grown children (all boys) gives me particular insight into young minds. I find myself advising and teaching my students the same way I would treat my own children. Hopefully this shows in the classroom. Truthfully, the ability to watch students grow and learn, and to feel I had a part in that growth, is one of the primary reasons I joined UTSA.
What advice do you usually give to your students?
Find out what you are passionate about and seek to make it your profession. We are so much better at leveraging our strengths than fixing our weaknesses. I warn against the pursuit of money as the sole motivation for choosing a career, and therefore a major. Something I have learned is that success tends to follow high performance, and people tend to perform their best when working on something in which they have passion.
What do you think makes UTSA unique?
UTSA is at the crossroads of major changes that will impact San Antonio and our region in tremendous ways. Our growing maturity as a research institution is positively affecting how we interact with regional entities such as CPS, SAWS, SwRI and the Medical Center. New cooperative research projects are being announced all the time involving UTSA and these regional entities. One reason for this is that UTSA is actively seeking these opportunities to enhance our research footprint, because both our leadership and researchers are highly motivated. This makes us able to quickly respond to a changing environment. In the end, this leads me to believe that the impact I can make at UTSA is greater than at other places.
If you weren't an assistant professor of electrical and computer engineering, what career do you think you would have?
I would be working for a company developing products using the same tools and techniques we are teaching and researching here at UTSA. That is what makes working at UTSA so fun.