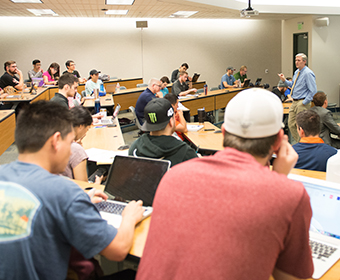 (Feb. 21, 2018) -- New numbers are in and more college students are choosing to earn a degree from The University of Texas at San Antonio (UTSA). The UTSA Office of Institutional Research has released its spring 2018 census report: 28,675 students are enrolled in spring classes this semester, more than 1,600 from one year ago. This is the second straight year UTSA has seen an increase in spring student enrollment.
Additionally, the number of master's and doctoral students has climbed for the second straight spring. UTSA students pursuing graduate degrees has reached 3,962 this semester, compared to 3,919 one year ago and 3,825 during spring 2016.
While fall is the start of a new academic year, spring also has provided an entry point for more than 1,700 first-time college students, transfers and new masters and doctoral students.
Nearly all of UTSA's nine colleges saw a boost in student enrollment compared to last spring. The largest number of UTSA students are majoring in programs offered by the UTSA College of Liberal and Fine Arts. More than 6,300 COLFA students study in one of 11 academic areas, such as Art and Art History, Communications, Music, Political Science and Geography, or Psychology. Almost 5,900 future business leaders make up the second largest enrollment in the UTSA College of Business.
UTSA continues to attract a diverse group of students. Just over half (53 percent) of the student population identifies as Hispanic. Nearly 1,000 students are international students who together represent 91 countries.
Bexar County remains the largest source of students for UTSA. In total, 13,940 enrolled students are residents of Bexar County. The second highest student population, nearly 2,000, comes from the Houston area. The number of Roadrunners from Travis County is also up this semester. More 900 have moved from the Austin area to attend UTSA, a growth in students coming from all three counties this spring.
UTSA is a multicultural discovery enterprise institution and model urban serving university. It specializes in health, energy, security, sustainability and human and social development. The university is ranked among the nation's top four young universities, according to Times Higher Education.