(Feb. 22, 2018) -- The Alamo is one of the most recognizable structures in the world, and one of the most hallowed sites in Texas history. A professor at The University of Texas at San Antonio (UTSA) is working to recreate its history with a series of interactive visual models going back from its beginnings to present day.
Richard Tangum, professor of Urban and Regional Planning with the UTSA College of Architecture, Construction and Planning (CACP), and teams of UTSA undergraduate and graduate students are using 3-D architecture modeling software to create explorable and interactive environments that provide an accurate and in-depth view of what Alamo Plaza was like at key points during its 300-year history.
"The intent of our ongoing project is to show how the Alamo has had many different uses over time, and how its transformation has shaped and been shaped by the city's own changes over time," Tangum said. "The Alamo has functioned as a Roman Catholic mission, fortress compound and garrison, the site of one of the most famous battles in Texas history, a commercial area and an entertainment setting. Its history is long and vast, and we want to help share it in an interactive way."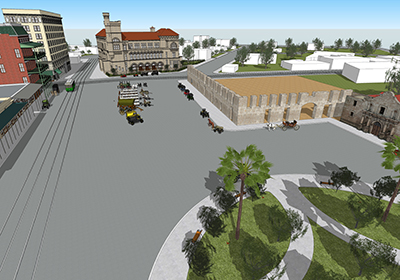 In a circa 1912 model created by UTSA, users can explore a painstaking re-creation of Alamo Plaza that includes the buildings around the Alamo designed and modeled to their historical specifications. Virtual depictions of San Antonio citizens stroll the plaza surrounded by Ford Model T cars, horses and carriages, and figures depicting the famous Chili Queens of San Antonio.
In another model, users can interact with a depiction of the siege and battle of the Alamo in 1836. Mexican soldiers surround the Alamo as Texans, including historic figures like James Bowie, William B. Travis and Davy Crockett, stand to defend it.
Tangum and his team are taking great care to ensure that their models are as authentic as possible. Their project has involved seeking out old maps, building schematics, newspaper clippings and documents from the eras they are recreating. Tangum and his students have also spent countless hours in archives, searching for pictures of buildings that have long since disappeared or been completely changed to ensure the accuracy of their re-creation.
Tangum's interest in the evolution of Alamo Plaza began more than 20 years ago when he created a special exhibit on Alamo Plaza for the Texas Society of Architects. At the time, he collected hundreds of photographs and maps to trace its growth and change for the exhibit. Today, he's sharing that passion with his UTSA students.
"Using 3-D modeling software allows us to create an educational tool that can be built upon and used by future generations with an interest in the Alamo," Tangum says. "The project can become more and more immersive as the technology develops and will serve as a valuable resource for learning."
In the coming months, Tangum hopes to add more time periods to the project and create as lifelike a representation as possible. He and his students have also been exploring more advanced software to integrate interactive avatar models that would allow users to interact with and engage in dialogue with digital models of people who lived during that time.
"As we look at San Antonio's last 300 years, we need to understand how our city's iconic places have changed and transformed alongside the rest of the city," Tangum says. "As we prepare for the next 300 years, we need to understand the past. This is my small way of helping with that."
UTSA is ranked among the top four universities in the nation under 50 years old, according to Times Higher Education.