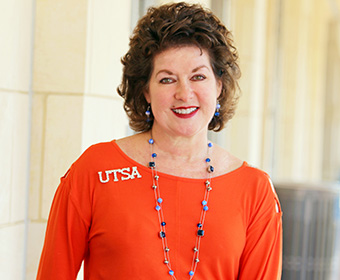 (March 2, 2018) -- A few buildings, great professors and the challenge to budget to pay for classes—that's what Melinda Bryant '83 remembers most about her time as a college student at The University of Texas at San Antonio (UTSA).
Fast forward 35 years and the retired accountant has named UTSA as a beneficiary of her retirement accounts to ultimately establish two endowed scholarships: the Melinda H. Bryant Endowed Athletic Scholarship and theMelinda H. Bryant, CPA Endowed Scholarship in Accounting.
Bryant's motive to give to UTSA is personal. She remembers the challenges of working part-time while going to college and she wants to help students like her.
"I remember trying to scrape up my last dollars to make sure I had money for tuition and books," said Bryant. "It was a struggle coming up with the money from semester to semester. I'd have to ask myself, 'how many hours will I be able to afford this semester?'"
The daughter of a phone line technician and house wife, Bryant dropped out of college in San Marcos and relocated to San Antonio, where she spent six years in between odd jobs. It was seeing the success of others around her that motivated her to return to school.
Despite being a non-traditional student in her late 20's, Bryant persevered, graduating magna cum laude with a bachelor's degree in accounting.
It was a career fair at UTSA that landed her a job with Touche Ross, one of the city's largest accounting firms at the time. She soon moved up the ranks in the field, traveling the world as an auditor.
Now retired from the business, Bryant and her husband Daniel are UTSA football fans, and can be found cheering on the Roadrunners at every tailgate and home game.
Eager to help students now, the couple has also established the Melinda and Danny Bryant Annual Scholarship in Accounting, which will be awarded for the first time in fall 2018. Bryant hopes the scholarships will give hope to students and inspire others to give back. All will provide endless opportunities for future Roadrunners.
"I hope to help students who are passionate in their studies. I want them to have a happy life, a fulfilling life and an exciting career," said Bryant. "I've been blessed and it's an honor to give back. I hope more people will consider making a gift and I strongly encourage them to do so, because if you can help somebody fulfil the dream of getting a college education, making that a reality, then I think that's awesome."