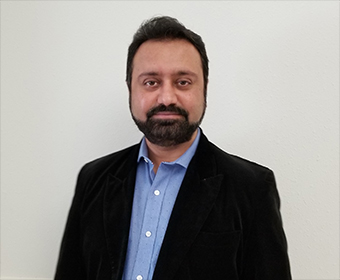 (March 28, 2017) -- Meet Rehan Akbani '02, '05, '09. He's using his UTSA computer science education to fight cancer and save lives.
Born in Pakistan, Akbani enrolled at UTSA straight out of high school. He received his bachelor's degree, summa cum laude, in 2002 then went on to complete his master's and doctoral degrees in computer science in 2005 and 2009, respectively.
This three-time Roadrunner enjoyed being part of the UT System so much that he joined the faculty at the University of Texas MD Anderson Cancer Center after earning his doctoral degree. Today, he's an associate professor in MD Anderson's Department of Bioinformatics and Computational Biology, where he has published more than 70 peer-reviewed papers that have been cited over 26,600 times.
Akbani's field of interest is bioinformatics. He's currently the principal investigator on four active grants with applications in cancer research. Overall, his work spans the biology of 33 types of cancer.
"I was always interested in basic sciences, especially computer science, electronics and biology," Akbani recalled. "I used to read biology books on my own for the love of the subject. Bioinformatics seemed like the perfect juxtaposition of the two subjects and it was an emerging field of research at the time I graduated."
"When I entered the field, there was a natural demand for bioinformaticians that spoke both languages – computer science and biology – and the research field was wide open at the time."
Notably, the UTSA alumnus is a major contributor to The Cancer Genome Atlas, the largest cancer research project ever funded by the National Cancer Institute and National Human Genome Research Institute. Through the project, researchers around the nation are studying cancers at a molecular level to learn more about the biology of those cancers and to identify new molecular targets for therapy to explore in future research.
In one of Akbani's current projects, Pan-Gynecologic and Breast Cancers, he's studying molecular similarities and differences among breast and gynecologic cancers such as ovarian, uterine and cervical cancers.
Through his research, he expects to apply therapies that are successful in one gynecologic tumor type to other gynecologic tumor types with the same vulnerabilities. He also expects the findings to potentially help in locating the source of a patient's tumor (e.g. cervix vs. lower uterus) so clinicians can tailor therapies to their patients.
It's a line of work that Akbani is thrilled to pursue.
"I wanted to do research that would have a real impact, and cancer research felt like it was worth spending a lifetime on."