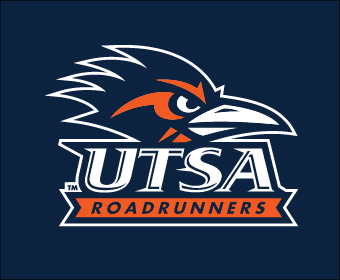 (April 12, 2018) – The University of Texas at San Antonio (UTSA) has placed 212 student-athletes on the 2017-18 Conference USA Commissioner's Honor Roll, Commissioner Judy MacLeod announced today.
UTSA had the third-highest number of student-athletes on the honor roll among the 14 member institutions behind Rice (255) and Charlotte (226). A total of 2,824 student-athletes who maintain a cumulative GPA or 3.0 or better earned a spot on this year's honor roll.
Student-athletes with a cumulative GPA of 3.75 or better also receive the C-USA Commissioner's Academic Medal.
Following is a complete list of UTSA student-athletes on the 2017-18 C-USA Commissioner's Honor Roll:
Baseball
Bryan Arias
Tony Beam
Ben Brookover
Chris Estrada
Bradley Griggs
Zachary Griggs
Chase Keng
Joshua Lamb
Ben Ostrominski
Karan Patel
Dylan Pullig
Dylan Rock
Jordan Rodriguez
Sean Stacy
Logan Swofford
Jonathan Tapia
Palmer Wenzel
Zach Zeller 
Men's Basketball
Giovanni De Nicolao
Byron Frohnen
Austin Karrer
Adrian Rodriguez
Mitar Stanojevic
Toby Van Ry 
Women's Basketball
Crystal Chidomere
Deja Cousin
Karrington Donald
Alexus Dukes
Carlie Heineman
Kourtney Kekec
Billie Marlow
Timea Toth 
Football
Andrew Acosta
Liam Beard
Blake Bogenschutz
Isaiah Clay
Reed Darragh
Zachary Didomenico
Hunter Duplessis
Brandon Garza
Peyton Hall
Frank Harris
Anthony Hickey
Lawrence Jackson
Brady Jones
Tyler Mahnke
Michael Maldonado
Andrew Martel
Les Maruo
Chance McLeod
Blaze Moorhead
King Newton
Zach Pare
Donovan Perkins
Jim Philistin
Daniel Portillo
Yannis Routsas
Terence Shaw
Vance Vallair
Alfred Wande
Tariq Woolen 
Men's Golf
Reynolds Carl
Collin Clark
Jake Goodman
Chad Sewell 
Women's Golf
Ana Gonzalez
Julie Houston
Madison Kidd
Alexandra Lessing
Nikki Long
Becky McGeehan 
Soccer
Sarah Bayhi
Michelle Cole
Melissa Finley
Nicole Galan
Tara Giesen
Isa Hernandez
Marianne Hernandez
Chandler Jackson
Rebekah Kensing
Jordyn Lacy
Lindsey Leatherwood
Katieann Lochte
Harper Luczka
Gabriella Mariello
Jasmine Marwan
Ellis Patterson
Isabella Sanchez
Kaja Skare 
Softball
Bailee Baldwin
Brycen Blinco
Hannah Boring
Celeste Borza
Lizzy Fox
Hailey Garza
Abigail Haston
Michelle Iparraguirre
Madison Nelson
Kylea Nix
Erica Sanchez
Victoria Villarreal
Ashlynn Walls 
Men's Tennis
Kai Breitbach
Igor Cantanhede
Joao Ceolin
Leon Hein
Patrick Poestinger
Juri Reckow 
Women's Tennis
Sofie Boers
Laura Cabrera
Kylee Kato
Sonia Madroñal
Diya Menon
Charleen Tiwari 
Men's Track & Field/Cross Country
Omar Bekdache
Monty Bertschy
Jahkwan Blackley
Jonathan Boozer
Kaleb Campbell
Dameon Creary
Austin Crocker
Matthew David
Caleb Devereaux
Derek Fenton
Edgar Garcia
Chad Gates
Marcus Guajardo
Devall Harris
Hunter Hawkins
Chandler Iturraga
Zack Kovar
Karney Linch
Jake McDaniel
Andrew Pirog
Patrick Prince
Kyle Real
Josh Rodriguez
Chris Rosales
Peter Sepulveda
Jared Taylor
Steven Thomas
John von Dohlen 
Women's Cross Country/Track & Field
Lynette Amaram
Jennifer Arinze
Lacee Barnes
Caroline Bellows
Amber Boyd
Britton Chapman
Olivia Esemena
Sarah Estrada
Victoria Gaytan
Darionne Gibson
Christy Gilbert
Colleen Gilbert
Gabby Gonzales
Rachael Grossman
De'Stini Henderson
Mia Hicks
Jamiah Jackson
Charlette Janicek
Chase Martin
Dallas O'Connell
Victoria Rausch
Gabriyella Torres
Briana Washington
Chase Whiting 
Volleyball
Ashley Dominguez
Christine Egu
Hannah Froeschl
Amanda Gonzales
Brianna Hudson
Brianna McCulloch
Megan Slan
Kara Teal
Allison Vaughan
Shanon Volpis
Shelby Williams