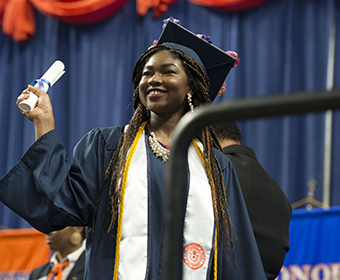 (May 10, 2018) -- Years of lectures, lab sessions, research papers and studying are complete. This weekend, more than 4,600 UTSA graduates will celebrate their accomplishments at UTSA's Spring Commencement, bringing UTSA's alumni network to 123,000 Roadrunners.
>> Watch the UTSA Spring Commencement ceremonies.
Three ceremonies will be held at the Alamodome on Saturday, May 12 and Sunday, May 13. The first ceremony begins at 10 a.m. on Saturday and honors graduates from the College of Education and Human Development, College of Sciences and University College. Carmen Varela is one of them.
Varela was a UTSA psychology major who struggled and graduated as a single mother. Once life stabilized, she came back to UTSA again to earn a biology degree and build the foundations she needed to pursue a Ph.D. While at UTSA, she's worked in several research laboratories and has won multiple awards for her work.
Saturday at 4 p.m., students earning a degree from the College of Engineering and College of Liberal and Fine Arts will walk the stage. Among them is a young lady with a remarkable story.
Rose Kelly dropped out of school at 15 and, for the next several years, lived as a virtual prisoner of her abusive father. Following his arrest on a narcotics charge when she was 21, Kelly earned her GED and entered a workforce program. Her experiences with abuse sparked an interest in becoming a police officer so the counselor advised her to join the military police force.
After four years of service, Kelly had to accept a medical discharge when she was diagnosed with lupus. But Kelly rose from the ashes once again, enrolling at UTSA as a communications major. While at UTSA, the scholar student has conducted research on the effects of childhood trauma on conflict management styles in adulthood. This fall, the first-generation student will take her knowledge she attained at UTSA to the Ph.D. program in communications at Arizona State University.
Families with students in the College of Architecture, Construction and Planning, College of Business and College of Public Policy will celebrate Mother's Day at the third Commencement ceremony on Sunday at 2 p.m., including Marcos Mendoza.
Originally from Monterrey, Nuevo León, Mexico, Mendoza had already earned his undergraduate degree in criminal justice from UTSA. Now this veteran who served in Operation Iraqi Freedom will cross the stage to accept his master's of criminal justice and criminology.
"My experience at UTSA has been nothing short of exceptional. I have accomplished many goals, created opportunities and set a path for others to follow," said Mendoza.
Next, Mendoza has his sights set on Italy, where he will represent UTSA at this year's European Innovation Academy, an academy recognized as a leader in technology entrepreneurship education.
Spring 2018 graduates are advised to arrive two hours prior to their ceremony for check-in, located on the ground level of the Alamodome. Family and friends are encouraged to attend.
Graduates must leave purses and bags with family.
All Roadrunners and their families and friends can share their Commencement experience on social media using #UTSA and #UTSAGrad18.
UTSA is recognized as one of the top five young universities in the nation by Times Higher Education.