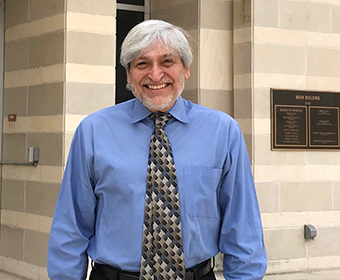 (May 22, 2018) -- Amaury Nora is a professor of higher education, co-director of the Center for Research and Policy in Education, and associate dean for research in the College of Education and Human Development.
He previously served as editor of The Review of Higher Education. Nora was inducted into the Class of 2009 as an AERA Fellow for his scholarship in the field of higher education. His research has focused on theoretical perspectives related to student persistence, the role of college on diverse student populations across different types of institutions, and the development of retention models that integrate economic theories and psychosocial perspectives within college persistence frameworks. He has published extensively about minority and non-minority student enrollment, the academic and social experiences of students, and degree attainment leading to the development of a student engagement model.
We sat down with professor Nora this week to learn about his work in student engagement and success.
What's exciting you the most these days?
Currently, I am co-authoring two papers with scholars from UTSA, the University of Houston and the University of Vermont. These collaborative projects have focused on the collection of original data from both quantitative and qualitative research projects.
One dataset is based on a survey instrument that incorporates different aspects of my theoretical model on student engagement. The social science survey was administered to all UTSA students enrolled in the spring of 2014 regarding the pre-college and college academic, social, financial and psychosocial experiences of students leading to their persistence or withdrawal from college. Our latest paper centers on the constructs that predict a sense of belonging for college students and subsequently impact student persistence and graduation.
The second dataset is based on a protocol that was developed for collection of data from individual interviews. The qualitative dataset focuses on disrupting the deficit-based narratives associated with underserved and underrepresented students from low-income backgrounds and emphasizes the asset-based views about the cultural wealth that students employ to transcend their socioeconomic circumstances and to excel in education. 
Our hope is for practitioners to leverage the Latino/a cultural wealth expressed as ventajas y conocimientos (assets and knowledge) that students employ to their advantage and foster student success.
What impact do you hope your research will have?
Our current quantitative study aimed to investigate a student's sense of belonging that has shown to be associated with positive student outcomes and experiences in higher education settings, particularly for students from racially diverse backgrounds.
A better understanding of the influences on this unique multifaceted construct, sense of belonging, can help shape the programmatic planning and evaluation of institutional policies geared toward improving retention. Identifying what factors influence a student's sense of belonging provides a more strategic approach to ensuring that students are able to fully connect to the campus and benefit the most from their college experience.
Our qualitative findings clearly substantiate that deficit-based assumptions about low-income, first-generation Latino/a students are erroneous. Students have extraordinary strengths, the drive to succeed and the ability to be transformed by their college experiences.
College faculty and staff need to learn more about Latino/a students' college experiences, reframe their assumptions about these students and develop asset-based frameworks to foster student success. Equipped with their own toolboxes of ventajas y conocimientos and with support and validation from college faculty and staff, Latino/a students can definitely complete a college education.   
Have you had any mentors?
I have been granted the opportunity to have three very special mentoring experiences in my professional life. Those who I truly consider mentors in my career have served as such at different, yet overlapping, times in my life. I believe that mentoring has many faces (or functions). One mentor, Dr. Michael Olivas, has been there from the beginning of my professional career and has remained special to this day.
He has been my mentor, professor, confidant and, above all, my friend.  Even now as a full professor, I find myself asking him for advice or receiving a phone call or email message about how I should consider this or that. The only thing that Michael has ever asked of me is that I do the same thing for someone else. That promise to him has influenced how I teach both in the classroom and outside of class, how I advise my graduate students and how I work with other faculty.
Another mentor, Dr. John Smart, entered my life at the time some very important tenure and promotion decisions regarding my academic career were being made. I am not sure how successful I would have been in my early review for promotion to full professor had it not been for the preparation in research, teaching and service that he oversaw, his stern and well thought-out suggestions for my tenure package and, above all, his friendship throughout the whole process. He, too, has remained a special friend to this day.
My last mentor, Dr. Laura Rendon, is someone that for many years I have regarded as my true friend and came to realize has served as my "spiritual" mentor, for lack of a better word. While we all strive to balance research, teaching and service in our academic careers, there are times when some of us become obsessed with publishing many times for its own sake. It was she who has always been there to constantly remind me that it must all mean something to someone.
I know of no other who possesses the passion that she does in linking research to practice. Her view on service is that if we cannot truly make a difference in a student's life, it is not worth all of the statistically significant parameters that we can derive. Her empathy and caring have always influence my research, my teaching and my outreach to the community. All three have been and will forever remain my professional "soul" mates.
What do you think is the biggest challenges universities are facing today?
There are five major issues or problems that universities are currently facing. The first is the increasing cost of an education. Being able to pay for an education has become a major problem specifically for underrepresented groups of students. Not only are students having to pay more for a college education, but once they graduate many face underemployment and great student debt.
A second issue is the high dropout rates. While we see an increase in the number of students going to college, many of these students do not earn a degree.
Another issue is the growing decrease in funding of public colleges and universities. As state funding for these institutions have decreased, colleges begin to seek funding from external sources. A major concern is that funding for specific programs that are not capable of generating high levels of external funding may lead to a decline in the benefits to society associated with those programs.
A fourth issue is new instructional methods and set of courses. Teaching methods are no longer focused on outdated model of lectures that are aimed at passive listeners. Interactive and self-guided approaches are much more common. Oftentimes, however, some professors find these new methodologies difficult to absorb into their teaching practices.
Finally, a fifth issue is centered on campus climates and creating a sense of belonging on our universities. Validation of our students that ensures that they feel wanted and valued ensures that a sense of belonging is felt by all students.
What makes your department at UTSA unique?
Our department is located within an institution that is in the middle of what can be considered as an educational laboratory: San Antonio and the state. Because many of the demographics of the South Texas region mirror the direction that the nation is going, our department is able to focus its research interests on the educational issues that are specific to this community and use them to inform policy discussions at the national, state and local levels.
This educational research opportunity makes our department unique for the reason that we get to work and help the community that is right outside our door. Other institutions and educational leadership departments are not as fortunate as we find ourselves.
This unique circumstance, I believe, makes our faculty more vested in their research. We are not only researching these very important societal and educational issues, but are living within the environment where they exist, and even more importantly, engaging with students from marginalized communities every day.