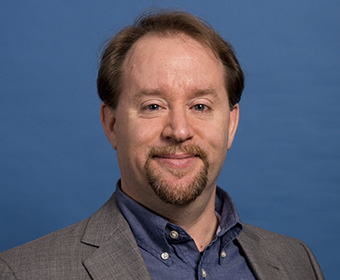 (May 10, 2018) – Professor Michael Baumann, in the UTSA Department of Psychology in the College of Liberal and Fine Arts (COLFA), conducts research related to social and organizational psychology.
Baumann researches how people interact with each other and how those interactions influence their behavior and decision making in various settings, but particularly in groups.
We asked professor Baumann to talk about his research and the impact he hopes it will have.
Tell us about your current research. How did you choose the topic you're studying?
I do research on several topics, mostly in the areas of group decision making, perceptions about women in the workplace, and substance use. Although this may seem like a strange mix of topics, my interest in the latter two grew out of the groups research. Early on when looking at group decision making, I started thinking about it in terms of how people in a group perceive each other and the various social norms and motives that go into how people behave in groups. As I dug into those issues to inform my groups research, I started becoming interested in each of those topics in their own right. I became particularly interested in factors influencing perceptions of women in the workplace (e.g., stereotyping) and in how social norms and motives influence choosing to use (or not use) cigarettes, alcohol and other substances.
Can you talk a bit about the applications of your research?
Because groups are used in so many parts of our lives, group decision making research can help improve effectiveness in business, medicine and government. Given how often teams – particularly interdisciplinary teams – are used for scientific efforts, groups research can also help improve the research process itself.
NASA has funded some of my work in this area, and from time to time I review grant proposals submitted to other NASA funded efforts involving groups. Seeing how work in this area gets applied to space travel (particularly planning long duration space exploration like the Mars mission) has been fascinating.
My work on perceptions of women in the workplace will hopefully also help with effectiveness across a range of areas. For example, reducing stereotyping and negative perceptions about women in the workplace should increase women's influence in many contexts in which groups are used. That in turn helps groups make better use of the expertise of their members and ultimately helps improve groups' performance. This work also has implications for overall well-being of women in the workplace in that it could help reduce some of the stressors associated with being on the receiving end of sexism and with being stereotyped. My entry into this area is fairly recent, but I have high hopes that I will be able to contribute in this way.  
My substance use research is meant to help gain a better understanding of the social and motivational factors involved in substance use. I am particularly interested in the influences that beliefs about appropriate use (e.g., cultural norms), workplace stressors, and relative strength of reward-seeking versus risk-mitigating orientation to the world have in decisions to use or not use substances. My hope is that gaining a better understanding of these influences will contribute to preventing misuse and the health problems that go along with misuse. Although this is also a relatively new line of research for me, I already have several articles examining these topics.
What is one major goal you have for your life or your career?
My goals all really boil down to this: to do good, solid research that helps advance our understanding of how people really work and to help educate others about that understanding.
What makes your department at UTSA unique?
One of the things you see a lot in the groups literature is that everyone thinks their group is unique, even when it's not. So as a groups researcher, I know my perceptions that we're unique might be way off. That said, I think my department differs from a lot of others at UTSA in that our discipline is often at the intersection of a lot of others. For example, over the years I have worked with people in psychology, management, computer science, nursing, communication and several other fields. Working with a mix of other fields is common in a lot of the research-oriented areas of psychology.