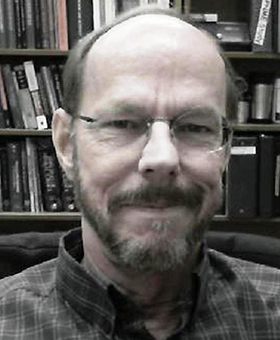 (June 14, 2018) – Brian Derrick, a professor of neurobiology in the Department of Biology and an investigator in the UTSA Neurosciences Institute, passed away earlier this week. Derrick's areas of specialization included cognitive neuroscience, molecular mechanisms of synaptic plasticity and neuropsychopharmacology.
"Brian was passionate and committed to his work," said Edwin Barea-Rodriguez, associate dean in the College of Sciences and Roland K. and Jane W. Blumberg Professor in Biosciences.  "He was a learner. He could cite references and remember studies like you couldn't believe; he was like a database."
Derrick joined the UTSA faculty in 1996, at the same time as Barea and their mentor, former Ewing Halsell Distinguished Chair in Neuroscience Joseph L. Martinez Jr. Both Derrick and Barea had worked as postdoctoral students in Martinez's laboratory at the University of California, Berkeley, where they studied learning and memory as processes of synaptic plasticity, the ability of the brain to change in response to experience or information.
Derrick also earned his master's and doctoral degrees in psychology at Berkeley after earning a bachelor's degree in psychobiology at UCLA.
As a graduate student, Derrick intended to focus solely on research but, after working as a teaching assistant to support his studies, also became interested in instruction. At UTSA, he taught both first-year and upper-division courses, which were popular with students, said Barea. Derrick regularly taught UTSA's course on neuropsychopharmacology, which examines the effects of drugs on the brain, and emphasized the development of critical thinking skills in his students. He mentored several graduate and undergraduate students and coached students to participate in the annual Brain Bowl, an intercollegiate neuroscience knowledge competition held at UT Health San Antonio.
"He was a very popular teacher; students loved him," said Barea. "He treasured science, but he treasured students, too."
In an interview last fall, Derrick said of his role as a teacher: "Simply helping a student define and realize their goals is enough. It's more rewarding than any of my publications were."
Derrick's own research focused on long-term potentiation and long-term depression—respectively, the strengthening and weakening of synapses between nerve cells that contribute to memory formation and forgetting. His work, which received more than 1,500 citations, was published in prestigious journals including "Nature," "Nature Neuroscience,"  "Journal of Neuroscience," and "Proceedings of the National Academy of Sciences."
"He made many scientific contributions to the field of neuroscience but perhaps the most significant one was to show that associative and cooperative rules of plasticity, which are also necessary for learning, were the same in different regions of the hippocampus, an area involved in the formation of new memories," said colleague Isabel Muzzio, associate professor of biology. "This work was an important breakthrough because it demonstrated that, despite the diversity in receptor expression across different brain regions, the principles that govern plasticity are ubiquitous."
In the same interview he gave last fall, Derrick said his life's work was largely inspired by this Tennessee Williams quote: "Life is all memory, except for the one present moment that goes by you so quickly you hardly catch it going."
"I take that to mean 'living in the moment' is a pipe dream," said Derrick. "All we have, now and in the end, are memories."
Muzzio said UTSA students regarded Derrick as an outstanding educator and he was well respected by his colleagues for his teaching and research, as well as his innumerable service contributions.
"His passing is a great loss for all students, faculty and our institution," she said.