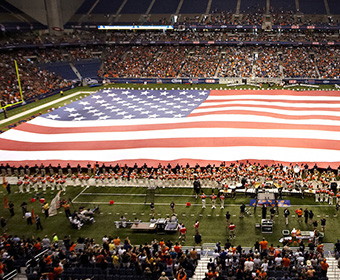 (Aug. 13, 2018) -- UTSA Athletics has launched "Operation Defend the Dome" for the football team's home opener against Baylor on Saturday, Sept. 8, at the Alamodome to recognize and show appreciation to those who defend our country.
For every ticket purchased between Aug. 13 and Sept. 7, UTSA Athletics will donate the same number of tickets to San Antonio active-duty and veteran military members and their immediate family members.
Tickets for the Sept. 8 home game can be purchased through a variety of packages offered by UTSA Athletics, including season, group and single-game tickets and mini-plans. Tickets purchased through any of these packages prior to Sept. 7 will count toward the number of tickets matched by UTSA. No additional action is required from fans looking to support "Operation Defend the Dome."
To help achieve the goal of defending the dome in "Military City USA," fans and local businesses also are encouraged to purchase tickets at $5 to donate. They can call or text 210-458-UTSA (8872) for more information.