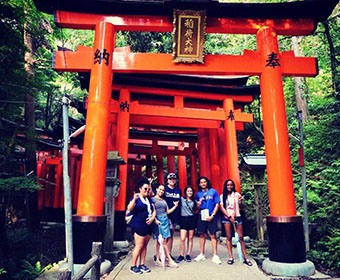 (Sept. 14, 2018) -- Roadrunners have the opportunity to learn about the many possibilities UTSA and third-party organizations provide to enhance education through study abroad.
The Office of Education Abroad Services will host the biannual Study Abroad Fair from 11 a.m. to 2 p.m. on Tuesday, Sept. 18 at Sombrilla Plaza on the UTSA Main Campus.
The fair introduces students to study abroad by giving them direct access to providers who can answer questions and provide them with additional information.
"The study abroad fair is an excellent opportunity for students to learn more about all of the options available to them both through UTSA and other organizations," said Gigi Do, executive director for the UTSA Office of International Programs. "We are excited to welcome Bianca Schonberg, our new Education Abroad Services director, who comes with years of experience in successful study abroad initiatives. She will lead our continued growth for the UTSA Education Abroad Services." 
Research has shown that students who study abroad have a higher graduation rate and UTSA's participation in study abroad has grown by nearly 50 percent throughout the last five years.
Studying abroad has helped UTSA students not only be more successful inside of the classroom, but also when they graduate. They develop intra-personal, cognitive and inter-personal skills for the workplace. Additionally, study abroad helps students learn adaptability and flexibility, intercultural skills, problem solving and curiosity while helping develop confidence, and leadership and communication skills.
"Study abroad is a profound 'starting over' experience where students get to immerse themselves in another culture whose modes of thinking and communicating are different. It is a fun and wonder-inducing experience! It also gives students the opportunity to learn about themselves, and the world first hand. I encourage every student to find a way to complete one of these life-changing experiences," said Lisa Montoya, interim vice provost for International Initiatives.
After the fair, students can attend one of the weekly First Steps meetings, where Education Abroad staff help students pick their program and walk through the application process. Students can also take advantage of walk-in advising hours and individual appointments at the office.