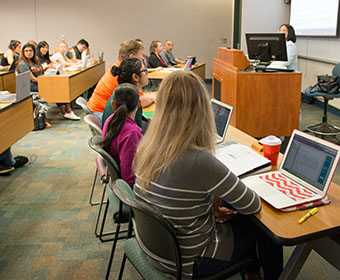 (Oct. 1, 2018) – UTSA President Taylor Eighmy today announced a new initiative aimed at making UTSA a model for student success. The Presidential Classroom to Career Initiative will focus on providing more UTSA students with experiential learning opportunities during their academic journey at UTSA.
The university's 2028 goal is to have 75 percent of students complete some form of experiential learning prior to their graduation.
"I believe that experiential learning opportunities can greatly enhance classroom instruction and have a profound impact on student learning outcomes," said Eighmy. "These signature learning experiences—including internships, service learning, undergraduate research and study abroad—directly contribute to a student's success in college and in his or her chosen career."
UTSA Provost and Vice President for Academic Affairs Kimberly Andrews Espy will oversee the new presidential initiative. Heather Shipley, vice provost for academic affairs and dean of University College, will chair the Classroom to Career Task Force, which includes many of UTSA's experiential learning campus champions. The group will develop a framework to identify and connect existing programs and facilitate the creation of new ones, reaching out widely to community partners to gather their input.
University College supports all undergraduates across disciplines and will serve as a central connection point for the various experiential learning opportunities available at UTSA in academic and support units across campus. To strategically align the academic enterprise with career readiness, the UTSA Career Center will become a part of University College under Shipley's leadership.
The Classroom to Career Task Force will deliver its report by the end of the fall semester. UTSA  will begin implementing its findings beginning in January 2019.