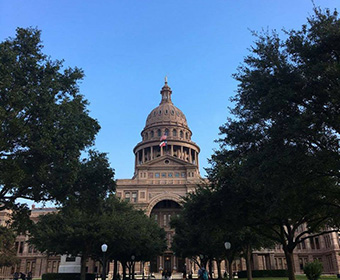 (June 4, 2019) -- UTSA was among the top universities in Texas to benefit from formula funding and a series of higher education bills passed during the 2019 Legislative Session this year, thanks in large part to the leadership of the Bexar County Delegation. The new funding will further drive UTSA toward its strategic destinations as a model of student success, a great public research university, and an exemplar for strategic growth and innovative excellence.
"The entire delegation did a phenomenal job advocating and fighting for all of UTSA's legislative priorities," said UTSA President Taylor Eighmy. "As we continue on our rapid trajectory toward our institutional destinations, I am deeply grateful to our elected leaders for supporting so many programs that are vital to our success. The funding UTSA is receiving this biennium is a testament to our legislators' trust and belief in our capacity to drive prosperity and change lives."
UTSA saw a significant increase over last session's higher education formula funding process. Its share will include a $26.1 million increase, a 13.6 percent rise over the last biennium and the second highest funding increase across all 37 Texas public institutions. The university's effort to grow weighted semester credit hours during the counting year was instrumental in this dramatic increase.
UTSA will also see an increase in its allocation from the Texas Grants program, which has a clear impact on the retention and graduation rates of Roadrunners. House Bill 1 included an increase of $80 million in statewide funds for these grants. The new funding will allow UTSA to provide additional financial support to its students, some 68 percent of whom rely on financial aid.
Significant funding was also allocated by the state to further support research innovation at UTSA. House Bill 1 included a continuation for Core Research Support funds, which support research activities at Texas's eight emerging research universities. This funding was renewed by the legislature and will result in approximately $10.4 million coming to UTSA over two years  to support faculty development, research equipment acquisition, laboratory upgrades, student fellowships and proposal development.
HB 1 also included support for the Texas Research Incentive Program (TRIP), which incentivizes private philanthropic support of research through matching funds for private gifts. The legislature approved a $35 million biennial investment into the TRIP pool. UTSA will be eligible for these funds as it secures gifts generated by its upcoming capital campaign.
To further advance student success, UTSA, Texas A&M University-San Antonio and the Alamo Community Colleges District will receive a total of $3.5 million this biennium to create a pipeline of educational support for students with a history of foster care. The partnership will position Texas to be a national leader in this area and was sponsored by Senator Pete Flores, Senator José Menéndez and Representative Trey Martinez Fischer.
During the legislative session, San Antonio community and business leaders came together to rally around a tuition revenue bond bill, House Bill 2000, which included a building project for every university in Texas. Although the bill passed in the House, it did not make it through the Senate. As a result, UTSA has begun to explore other avenues of funding to advance its plans to expand business education and career engagement at its Downtown Campus.
At the same time, UTSA is finalizing the acquisition and transfer of the two city-owned land parcels. It will be launching its National Security Collaboration Center and School of Data Science construction project on the property abutting San Pedro Creek later this year. The university is also finalizing arrangements to acquire and transfer the county-owned property for its new interdisciplinary business education building.