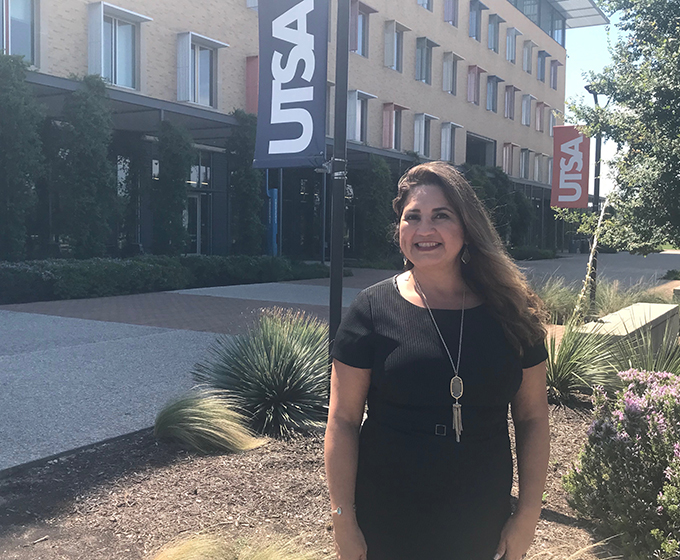 (July 8, 2019) -- UTSA today announced the selection of Sylvia Ann Enriquez, a native of San Antonio's westside with more than 25 years of professional experience, as its new Associate Vice President of Human Resources.
Enriquez joins UTSA at a time of exponential growth. Her initial priorities will include the ongoing development and implementation of strategic initiatives to recruit and hire faculty and staff members in key areas. These new hires will serve UTSA's growing student population, which is expected to top 45,000 students by 2028, while expanding the university's core research capabilities. She will also provide oversight and direction for strategic planning, fiscal management and business continuity.
"Sylvia is a tremendous leader who is highly respected within San Antonio's industry circles," said UTSA Vice President for Business Affairs Veronica Mendez. "She has a demonstrated record of success in human resources management and is particularly skilled at managing environments experiencing significant change. As UTSA grows its student population, academic programs and campus footprint over the next decade to serve the community, Sylvia's expertise will be invaluable."
Over the last decade, Enriquez has worked in highly collaborative leadership roles. In addition to providing strategic counsel to C-suite executives, her expertise includes visioning and implementing proactive solutions for complex business challenges, change management initiatives, reengineering processes and leveraging technology to drive down HR delivery costs while improving effectiveness and establishing competitive advantages.
Most recently, the San Antonio native worked as a human resources consultant, assisting large companies such as Andeavor, USAA and CVS Caremark. She has also served in senior manager roles with companies such as CPS Energy, Deloitte & Touche, Amazon and Seattle's Best Coffee.
A San Antonio native, Enriquez put herself through college, earning her bachelor's degree in Human Resources/Organizational Development and her M.B.A. at Our Lady of the Lake University. She is also a certified Senior Professional in Human Resources (SPHR).
Enriquez begins in her new role today.