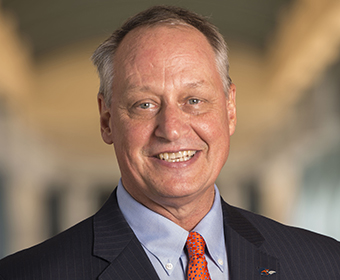 (July 18, 2019) -- UTSA President Taylor Eighmy has been appointed to serve on the Council of the National Academies of Sciences' Government-University-Industry Research Roundtable (GUIRR), the nation's foremost forum for science and technology leaders to collaborate on solutions to shared challenges.
Eighmy, who holds faculty appointments in UTSA's Departments of Civil and Environmental Engineering and Environmental Sciences and Ecology, is one of three public and private university presidents invited to join the GUIRR Council. He will serve for a three-year term with an opportunity to serve a second term.
Established in 1984, GUIRR holds three roundtables per year where leaders from the three sectors—government, academia, and industry—explore ways to enhance public-private partnerships and to improve the nation's science and technology enterprise. Comprised of national science agency heads and chief scientists, corporate R&D leaders and academic chief research officers, GUIRR-initiated collaborations have proven to increase the effectiveness of science and technology advancements at the national level.
Examples of challenges GUIRR members have tackled include examining the U.S. patent system, analyzing big data research and exploring novel approaches to financing innovation. Eighmy had a prior role with GUIRR as an academic partner chief research officer.
"I am thrilled to have been chosen to join this exceptional group of forward-thinkers," said Eighmy. "I am grateful for the opportunity to closely collaborate with my fellow Council members to shape the future of R&D in our country."
Eighmy has extensive accomplishments in advancing research partnerships between government, industry and academia. While serving as the chief research officer at the University of Tennessee at Knoxville, he directed a collaboration with the Oak Ridge National Laboratory that resulted in the Institute for Advanced Composites Manufacturing Innovation, a $259 million public-private partnership supported by the U.S. Department of Energy.
Among his other distinctions, Eighmy is a fellow of the American Association for the Advancement of Science and a member of the National Academy of Inventors.
UTSA is no stranger to collaborative partnerships in biomedicine and in cybersecurity.
"Our very own National Security Collaboration Center is an excellent example of a government-university-industry partnership," said Eighmy. "In fact, even though it is in its early stages, it is one of the best examples that I know."
Eighmy is scheduled to attend a GUIRR leadership gathering today in Washington, D.C. with Council members from around the country where they will hear from featured guest speaker Kelvin Droegemeier, director of the White House Office of Science and Technology Policy. 
Since arriving at UTSA in the fall of 2017, Eighmy has established a bold vision for the institution that emphasizes the university's trajectory toward becoming a nationally-recognized research university, as well as a model for student success. Under Eighmy's leadership, UTSA is on track to attaining National Research University Fund (NRUF) eligibility and achieving an R1 designation by the Carnegie Foundation for the Advancement of Teaching.