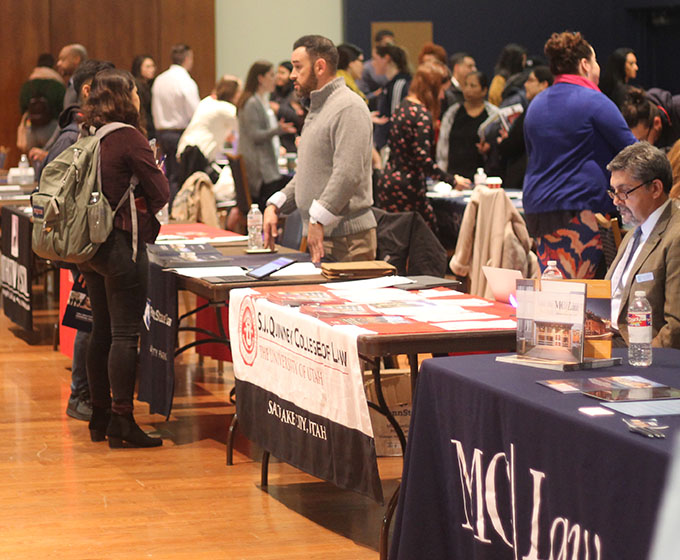 Oct. 2, 2019 — UTSA's Institute for Law and Public Affairs will host its 15th annual Law School Fair from 10 a.m. to 1 p.m. today in the H-E-B Student Union Ballroom (HSU 1.104) on Main Campus. Cohosted by the Southwest Association of Prelaw Advisors, the event is free and open to anyone interested in attending law school.
Aspiring law students will have the opportunity to meet with representatives from approximately 90 law schools from across the nation, including all law schools in Texas, and learn about admissions, financing, course offerings, student life and program reputation to help them decide which schools would suit them best. 
In addition, participants are encouraged to attend three 50-minute breakout sessions on application preparation, financing and the digital LSAT. Sessions begin at 9 a.m. on the day of the fair. 
UTSA is one of only nine schools across the states of Arkansas, Oklahoma and Texas selected as a SWAPLA law fair destination. In addition, UTSA is the only location in San Antonio and the southernmost location in Texas for individuals to take advantage of this unique opportunity to learn directly from law school admissions professionals. 
"Across the nation, law schools are increasing their outreach efforts to recruit more qualified underrepresented students in an effort to increase diversity in the legal profession, mirroring the growing racial and ethnic population of our society," said Ana Alvarez, ILPA's assistant director and certified prelaw adviser. "Holding this annual fair is a valuable experiential learning opportunity that allows UTSA students, the majority of whom are underrepresented minorities, to attend prelaw workshops, learn about law school admissions and programs, and make an impression to potential decision makers." 
Since ILPA's inception, students have been admitted to more than 150 law schools in the United States, Europe and Puerto Rico. This collection of diverse, distinguished universities across 44 states includes Harvard, UC Berkeley, Columbia, Chicago, UT Austin, Northwestern, Georgetown, Washington, Emory, Boston, New York and Syracuse.
Part of UTSA's Classroom to Career initiative, the Institute for Law and Public Affairs provides advice and support to students interested in pursuing careers in the legal profession.