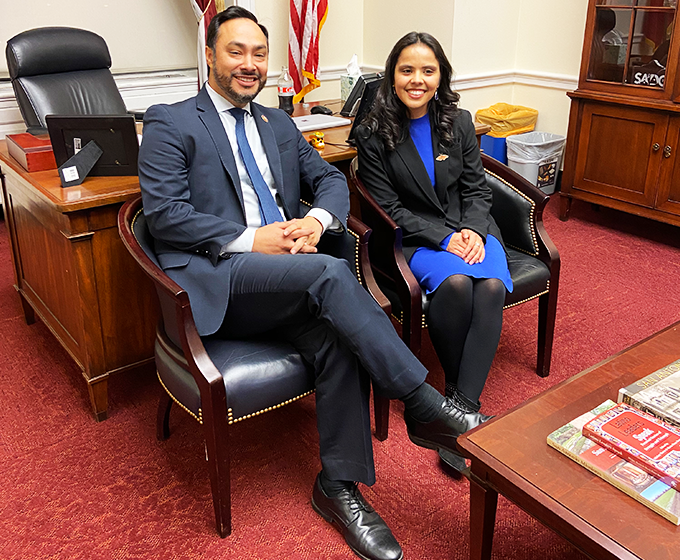 ---
ROADRUNNERS YOU
SHOULD KNOW

---
MARCH 20, 2020 — Since she graduated from UTSA with a bachelor's degree in interdisciplinary studies and a master's in educational leadership, Maria Rocha-Carrillo '12, M.E. '18 has been working diligently to assist underserved students in San Antonio. 
Her work on behalf of the students of Deferred Action for Childhood Arrivals and in bilingual education attracted the attention of the U.S. congressman for San Antonio's 20th district, Rep. Joaquin Castro, who invited Rocha-Carrillo to attend the State of the Union address in Washington, D.C., in February as his guest on the floor. 
UTSA Today spent time with Rocha-Carrillo to learn more about her journey and accomplishments on behalf of others and as an alumna of UTSA, one of the nation's top Hispanic Serving Institutions. 
---
"I decided to move forward with my career here because I wanted to advocate for future changes to support bilingualism."
---
---
How and when did you arrive in Texas from Mexico?
I moved to the United States at the age of 3 from Torreón, Coahuila, Mexico. My early childhood was spent in Stonewall, but at the age of 9, my family moved to San Antonio. Since then San Antonio has been my home. 
Is the fact that San Antonio has been your home for the longest time, the reason why you decided to stay and work here?
I decided to move forward with my career here because I wanted to advocate for future changes to support bilingualism as well as create a safe learning environment where students are given the opportunity to build themselves around the personal experiences they bring with them to school. 
Where are you currently teaching?
I am a second-grade dual-language teacher with San Antonio Independent School District. My campus is Mark Twain Dual Language Academy. 
Why did you decide to be an educator?
I think back to Ms. Dora, a pre-K assistant who helped me acquire the English language early on, and the powerful tools a language possesses. Teacher shortage is very common across our country but especially among those specializing in bilingual education. 
As a native Spanish speaker, I desire to utilize knowledge of my native language and support students in their bilingual trajectory, honing in on their Spanish skills and also assisting those interested in building their language and cultural repertoire. 
Waking up knowing I am going to facilitate dual language instruction to a group of 19 children and collaborating with phenomenal and experienced educators is very exciting for me. Every day is different as a dual-language teacher.
How has UTSA played a significant role in your life?
I was a babysitter and housekeeper until June 15, 2012. That was not only my 25th birthday but also the day President Barack Obama announced DACA. Now, I am legally employed with the same school district where I went to school after I worked hard to obtain my master's degree at UTSA. 
Reflecting back on where I have been, where I am currently standing and where I envision myself going is quite an honor to carry with me—and would not have been possible without the support of my family, teachers, counselors, professors and allies who believed in me. 
What advice do you have for UTSA students considering a career in education?
There is always a vital need for quality instructors who are dedicated to educating our future leaders. Your contribution in benefiting your community, country and the world leaves you extremely satisfied knowing the profound impact made every single day.