Keynote Event: Freedom is a Constant Struggle Featuring Dr. Angela Davis
Tuesday, February 23, 2021 | 6 pm
Outspoken political leader, activist, professor, renowned author, and cultural icon, Dr. Angela Davis is scheduled to talk to the UTSA community, as part of Black History Month.
This event will be virtual and is open to the public. The Zoom link will be available in RowdyLink.
Meet the Speaker
Dr. Angela Davis, Ph.D.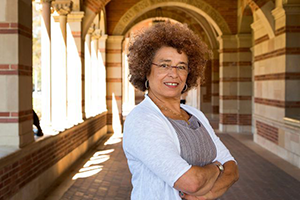 For over 50 years, Dr. Davis has been recognized as a committed forerunner in the struggle for economic, racial and gender justice. Her work as an educator, both at the university and in the larger public arena, has always emphasized the importance of building communities for marginalized groups.
Dr. Davis continues to be a powerful instrument to social reform. She is the author of 10 books including recent works such as, Are Prisons Obsolete? Freedom Is a Constant Struggle: Ferguson, Palestine, and the Foundations of a Movement. She has taught at a number of American colleges and universities including San Francisco State, Mills College, and UC Berkeley. The last fifteen years have been spent serving at the University of California, San Cruz where she is now Distinguished Professor Emerita of History of Consciousness. She is also a founding member of Critical Resistance, a national organization dedicated to dismantling of the prison industrial complex.
Sponsors
Student Activities and Student Union
Featured Events