Black History Month Keynote:
Dr. Chiquita A. Collins
February 9 | 6 p.m. | Zoom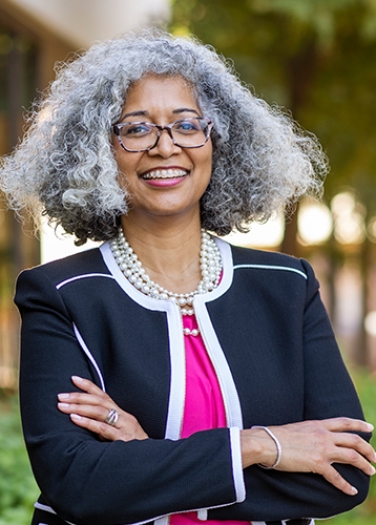 Chiquita A. Collins, Ph.D.
, serves as the inaugural Vice President & Chief Diversity Officer at UT HealthSan Antonio; Associate Professor, Population Health Sciences. She works closely with internal and external stakeholders to advance health equity and inclusive excellence across six schools: Dentistry, Nursing, Medicine, Health Professions, Public Health, and Graduate School for Biomedical Sciences.
She is recognized at both state and national levels for her work in health disparities, primarily as it relates to the social context and various societal influences that contribute to health differences (e.g., childhood obesity) among racial/ethnic and across socioeconomic groups. In 2016, she received the distinction of having one of the top-100 cited papers on health care disparities research published over a period of three decades.
Collins is the designated institutional officer for the Association of American Medical Colleges (AAMC) Group on Diversity and Inclusion (GDI), AAMC Gender Equity Lab Institutional Liaison, AAMC DEI Competencies Across the Medical Education Continuum Task Force Member, and former Member-at-Large on the AAMC Group on Women in Medicine and Science (GWIMS). She serves as chair of the AAMC Group on Diversity and Inclusion (2020-2025), immediate past chair of Texas Medical Schools Diversity Consortium (2020-2021), Board Member, National Diversity Council Healthcare, Time's Healthcare, and Emory University School of Medicine DEI External Advisory Council.
Other national recognitions include Robert Wood Johnson Health Policy Scholar; Andrew W. Mellon/Woodrow Wilson Fellow, and Hedwig van Ameringen Executive Leadership in Academic Medicine (ELAM) Program Fellow.
Professional credentialing includes Johns Hopkins University Leadership Program (2014); AAMC Healthcare Executive Diversity and Inclusion Certificate Program (2017-18).
Sponsors
Office of Inclusive Excellence
Featured Events