An Alum's Dedication to Supporting Diversity in the Air Force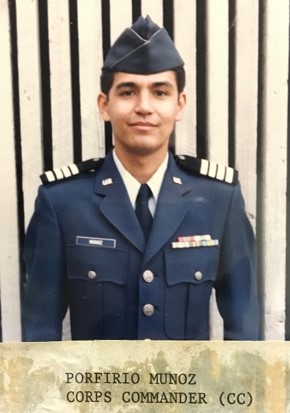 Porfirio Munoz '89, graduated from The University of Texas at San Antonio with a bachelor's degree in mathematics and then commissioned as a 2nd Lieutenant in the Air Force. Having been active in the Air Force Junior Reserve Officer Training Corps (AFJROTC) in high school, he decided to join UTSA's ROTC program and went on to become the first in his family to graduate from college. In appreciation for his UTSA education and successful Air Force career, Munoz created the Hispanic AFROTC Cadet Endowed (HACE) Scholarship.
While attending UTSA, Munoz was highly involved in ROTC activities. In his senior year he recalls the Prisoner of War and Missing in Action flag vigil. He also helped coordinate a high school JROTC drill team competition on the UTSA campus.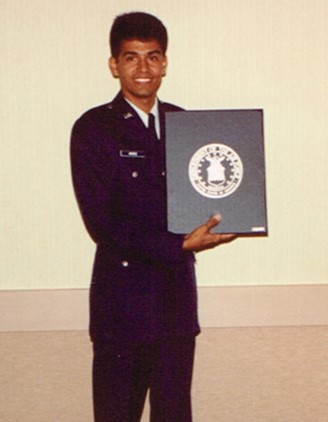 After graduation, Munoz began his military career as a meteorologist, predicting global weather patterns for Air Force and Army operations. But it was his experience at the Air Force Academy Admissions Office that opened his eyes to the importance of diversity in higher education and the military and inspired the creation of his scholarship.
"I am grateful to our country for the opportunity to ascend in my career through the Air Force. From where I started, we seek and pull people for such opportunities. I want to tell students, 'I've walked your path, let me show you the opportunities to help pull yourself up.' I never would have thought I would have the opportunity to give back to the university, but UTSA and the Air Force afforded me the means to help others who look like me today," said Munoz.
Munoz has seen UTSA grow significantly over the years. After his retirement from the Air Force as a Lieutenant Colonel in 2009, he began following the UTSA Alumni Association and subscribing to the UTSA Sombrilla Magazine. Munoz realized that he would not be as successful as he is today if it were not for his scholarship from the Air Force to attend college. He later concluded that he had the means to make an even greater impact on more first-generation Hispanic students like himself.
Munoz has gone above and beyond by including a future gift to his scholarship in his estate plans. Today, he lives in Houston and is the Senior Aerospace Science Instructor for the AFJROTC program at the General Benjamin O. Davis, Jr. Senior High School.
"It is so important to give back to your roots and support the next generations. Let's not forget to be grateful for the opportunities that we have to help others."
-Jordan Allen, Development Writer