ITC Community Conversations
ITC Centennial 2068 is a community-driven process, and public participation is critical to its success.
---
Round I
On Sept. 28–Oct. 10, UTSA held the first phase of community engagement for ITC Centennial — a visioning process to envision the next 50 years of the Institute of Texan Cultures and its museum — in collaboration with facilitator Lopez Negrete Communications (LNC).
The invitation for community participation in the survey was sent to nearly 800 individuals with affiliation, association or connection to ITC, local community and government leaders, donors, 150,000 UTSA alumni, 1,400 UTSA faculty and students, and was also advertised locally and promoted through social media for three weeks. The online survey was available in English and Spanish. Community members also had the option of visiting the UTSA Westside Community Center (1310 Guadalupe St.) to complete the questionnaire.
The push yielded more than 1,000 visits to the Community Conversation webpage and resulted in 255 ideas submitted by community members.
A wide range of individuals provided their feedback in the survey:
What is your relationship to the Institute of Texan Cultures?
Local Visitor

52%

Educator/ Professor

35%

*

Other

31%

K-12, Parent/Guardian

17%

College Student

6%
*The majority of those who selected "Other" reported mainly being current UTSA staff or alumni.
Each Task Force was asked to draft strategic value criteria that would be used by LNC to aggregate ideas generated through the survey. The draft criteria were submitted to the Steering Committee, who then refined and finalized the strategic value criteria shown below.
Respondents were asked to select three values that were most important to them:
69% selected "Explores the story of Texas with inclusivity" as most important
59% selected "Inspires with stories of relevance and connection" as most important
54% selected "Provides a resource to the community for greater cultural understanding" as most important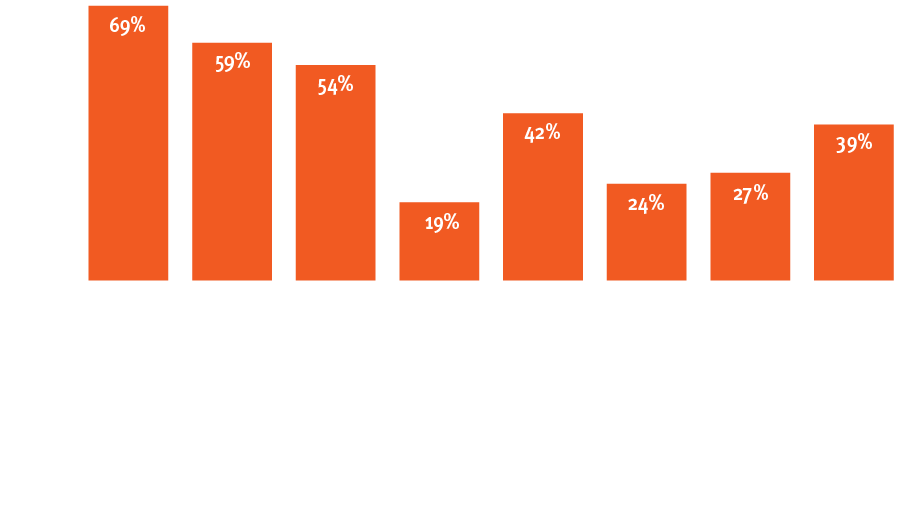 Participants shared diverse ideas related to the future of the ITC. LNC grouped the 255 ideas into the categories shown below.
LNC-grouped categories by percentage of participant ideas:
Community Events

20%

Partnerships

16%

Physical Plant

15%

Expansions

14%

Ethnic coverage

13%

Special Exhibits

7%

Landscape

7%

Education

5%

Child engagement

4%
A sampling of the community ideas
The list of ideas below represents a broad perspective of input submitted through the ITC 2068 Visioning Community Survey. These ideas have not been edited, apart from spelling to improve readability. These ideas represent the individual opinions of the survey respondents.
---
Be the Smithsonian of Texas culture. Represent all facets, geographies and inputs to Texas culture. Be contemporary...never stale.
Have more material online so that people everywhere can learn from and more easily participate in ITC's offerings.
Work with the San Antonio Tech Bloc in order to find innovative ideas to incorporate the community's growing tech community with the museum.
Seek first person stories connecting current issues to historical ones.
Partner with cultural associations and related arts organizations to have smaller festivals throughout the year.
Be a bridge between downtown San Antonio and the Eastside and Southside communities, with intentional outreach to community leaders, organizations, and educational institutions in those areas.
The values of the university start within by creating spaces for the community by telling stories and keep the essence of who we are and what we stand for.
More public-private partnership. Restaurants and other retailers could draw attendance, just as it has done in Yanaguana.
Show Texas as it is today. I believe institutions/museums sometimes focus too much on the past without looking at our present and future.
Make the Institute a cultural destination with book readings, art shows, a culinary destination (local partnership with chefs) and make it a hub for culture and arts.
Truly make this the third campus in the UTSA system. Offer more research opportunities for professors, more classes for students, and more interaction with local alumni.
Put money into building maintenance and upkeep; you cannot improve an institution if the brick and mortar building is falling apart.
Telling the complete story...good, bad and ugly.
Actually fund the museum. Pay to renovate the building and grounds after decades of underfunding and neglect. New exhibits.
I would love for the ITC to have the true, inclusive history of Texas. We were here before the covered wagons arrived. I want it to be a point of pride for the Latino community- raising our voices and highlighting our contributions.
Make it part of Texas heritage history week in schools
Work with museum staff to create tours (or map programs due to COVID) that highlight important themes relevant to the guest. Examples could be evolution of technology, adaptation and resources, parallel living experiences based upon culture, education in early Texas, entrepreneurship and migration, etc. Give the guest the tools they need to make relevant connections.
Not be so dependent on those old exhibits - most of them have timelines that stop in 1968. We should expand and make more relevant the African American exhibit. Most of them are very dated and not engaging. Maybe take a different approach. Covering every culture in Texas is not sustainable. Many are missing from what are currently there.
Form a consortium of San Antonio museums, working together to promote history, the arts, science, culture, and each other. Have a special bus or train line that connects the museums to one another. Offer discounts for people wanting to visit more than one.
Have more material online so that people everywhere can learn from and more easily participate in ITC's offerings.
Create immersive experiences. The sharecropper's cabin is one of the most fascinating and unique pieces the museum has, and visitors are able to walk through it to experience even more artifacts in an organic, storytelling way. ITC needs more of that. There are so many amazing artifacts just sitting in storage that should be out on the floor telling a story.
Would love regular community generated events to be held on ITC grounds - a common space if you will that can be utilized by community groups.
Add high end local businesses (restaurants, shops) that support multicultural values. For example, the Jardin restaurant at the Botanical Gardens or the shops at the Pearl Brewery
Expand the definition of "culture" so that it is not just ethnic but includes such possibilities as musical culture, gay culture, youth culture, food culture, literary culture — categories that have the potential of crossing boundaries.
Invite teachers to use ITC as resource for their curriculums.
Work with athletics to host tie-in events with nearby athletic events (football games at the dome) to expose different audiences to what ITC has to offer. For example, maybe use some of the Back 40 to help football game host tailgates as well as have outdoor teaching/history experiences to draw crowds into the building for more visitors.
Activate the space. It is too static. Include activities other than just the two festivals.
Allow live presentations or videos about exhibits or special artifacts that can be accessed by all Texas public schools.
Connection with the community. Involve everyone and inspire to be a cultural leader.
Demo the current structure to allow for more density and connectivity to the neighborhoods and Hemisfair.
My main concern at the moment is the actual modernization of the complex/grounds itself.
As an institute of cultures, the ITC should be addressing all aspect of culture, even if it is controversial to get these important conversations going. It is important to make sure all stories are told and we do not try to edit out what is uncomfortable to try to make others happy.
Outdoor community garden and performance space for meditation, outdoor classes, music, storytelling.
Take advantage of advances in technology; the ITC needs to ensure that it grows as Texas grows.
We need a new modern facility for the ITC that is centered around lots of cultural conversations, food, drink, and fun.
ITC meeting rooms should be modernized so conferences can be held there. This would allow visitors from outside the city and state to experience the museum's uniqueness. It is outdated, dark, and not very appealing as it stands now.
Offer tours in multiple languages and for different kinds of disabilities.
Use the landscape for environmental and wildlife educational purposes, and well as the architecture of the building for welcoming and accessibility to all able-bodied folks.
Provide opportunities for local groups to showcase their works/talents for a weekend or two either on the grounds or indoors during the weekends when tourists/locals are more likely to visit.
Invite local artists to participate in developing programming for K-12.
Create internships for UTSA students to run the museum. They will keep the museum relevant and fresh!
Build a theater/auditorium for performances/plays
There should be a greater emphasis on creating interactive exhibits that appeal to schoolchildren. Museums like the Witte and Doseum inspire kids to become repeat visitors. Likewise, programming should appeal to younger visitors.
Create a museum studies degree program/certificate at undergrad and grad levels.
Create programming, exhibits to appeal specifically to young adults. The neon Texas flag is the only Insta-worthy spot at ITC; more deliberate exhibit curation and targeted programming could draw in young adults who already are living, working or visiting downtown San Antonio.
There have been more months dedicated to exploring and celebrating different cultures (like Hispanic Heritage Month). If the ITC could participate all month long by providing programs and history lessons and similar items, I feel that would be great.
Have more family weekend events and bring in the community to visit with Buffalo Soldiers or see how bread was made from scratch and baked on an outside oven/grill.
Take advantage of its geographic footprint. The ITC's location is on prime real estate in San Antonio and it is highly underutilized.
Campaign to collect more historical artifacts, documents, etc. for either donation or "on loan" to the museum.
My creative idea would look like a space for everyone to connect on different levels. It would be a design that show the cultural heritage of the people of Texas and the struggles and the essence of who we are of a diversity of cultures and inclusivity. We should tell the story so that the PreK-12 can image the history that came before us and the struggles.
The main themes of respondents' ideas are reflected in the word cloud, highlighting the most frequently used words in their submissions.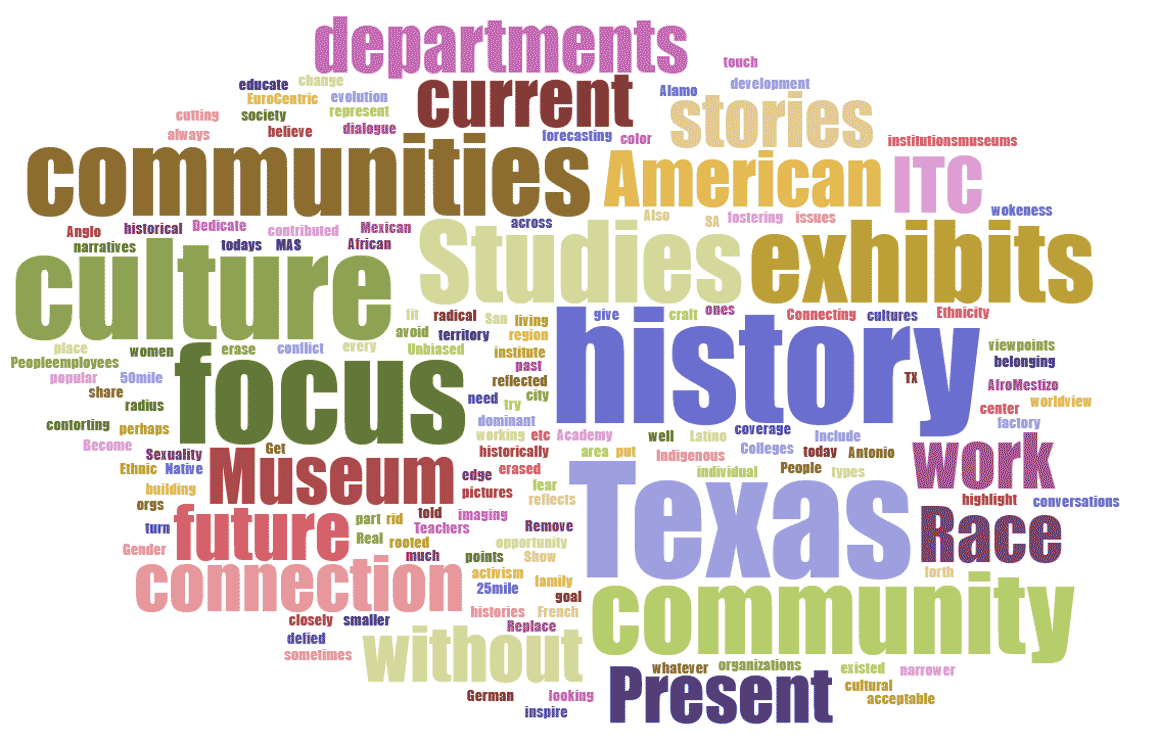 When asked about the intended audience for the idea, some community members had ideas which were very specific to a certain audience, but most ideas applied to all audiences.
Who is the audience for your idea?
All

n=69

Local Visitors

n=21

Young Adults

n=19

Educators/ Professors

n=17

K-12

n=16

Tourists

n=11
LNC Idea Aggregation into the Choice Board
The purpose of a Choice Board is to aggregate disparate ideas for concise consideration. To develop the choice board, LNC professionals refined the 255 ideas in 108 unique statements, which were then consolidated into 35 refined statements and, finally, categorized into 13 key idea buckets. These idea buckets were rated using the strategic value criteria above and four ease of execution criteria regarding political, financial, and environmental feasibility and accessibility.
How feasible is the idea politically?
How financially operational is it?
How feasible is the idea environmentally?
Accessible for all (facility, technology, and language)
| LNC BUCKETED IDEA  DESCRIPTION | RATED STRATEGIC VALUE | RATED EASE OF EXECUTION VALUE | RATING WEIGHTED SUM |
| --- | --- | --- | --- |
| History past/present/future with inclusivity of all ethnic groups through their settlement and contributions to Texas | 3.33 | 3.52 | 6.85 |
| Intentional programming and engaging outreach through various platforms in k-12 classrooms across Texas for students bringing the understanding the diverse history of Texas | 3.29 | 3.28 | 6.57 |
| Create and enhance exhibits using technology for in-person and virtual experiences | 3.17 | 3.22 | 6.39 |
| Strategic partnerships with public, private, non-profit, and philanthropic entities to connect and unite the community | 2.90 | 3.42 | 6.32 |
| Create engaging travel exhibitions and virtual learning opportunities to students and community with opportunities to partner with other state/national museums | 3.17 | 3.05 | 6.22 |
| Offer cultural festivals, conferences, entertainment events, and other activities leveraging Hemisfair to bring the community together and encourage visitors inside/outside of Texas | 3.07 | 2.81 | 5.88 |
| Modernize the building and grounds for more accessibility, modernizing indoor/outdoor space | 2.79 | 2.88 | 5.67 |
| Develop outdoor landscape creating opportunities for meditation, outdoor activities, playgrounds, and gardening for the community | 2.54 | 2.78 | 5.32 |
| Leverage on tech and utilize faculty to educate on various topics currently impacting the San Antonio area | 2.68 | 2.51 | 5.19 |
| Build a theater/auditorium for performances/plays | 2.67 | 2.44 | 5.11 |
| Retain the original ITC property, including the building itself, and capitalize on the Hemisfair connection | 2.22 | 2.52 | 4.74 |
| Rename ITC, dropping the name Institute and renaming it Texan Culture Museum of Education | 1.78 | 2.82 | 4.60 |
| Move the Back 40 Lot buildings to the front lawn. Make them into a miniature architectural museum | 1.98 | 1.90 | 3.88 |