Remembrance Ceremony
The Roadrunner Remembrance Ceremony features readings and music to honor each individual's contributions to UTSA. A feather is placed in a nest to symbolize and honor each Roadrunner's legacy. A reception immediately follows the ceremony.
Friday, April 28, 2023 - 3:00 pm
UTSA Main Campus
Student Union Retama Auditorium
The ceremony on Friday, April 28 will honor members of the UTSA community that passed away in 2022. Families and friends planning to attend can RSVP to the event through the Roadrunner Remembrance online form.
We kindly request families send their RSVP by Friday, April 21 to ensure your loved one is included in the ceremony.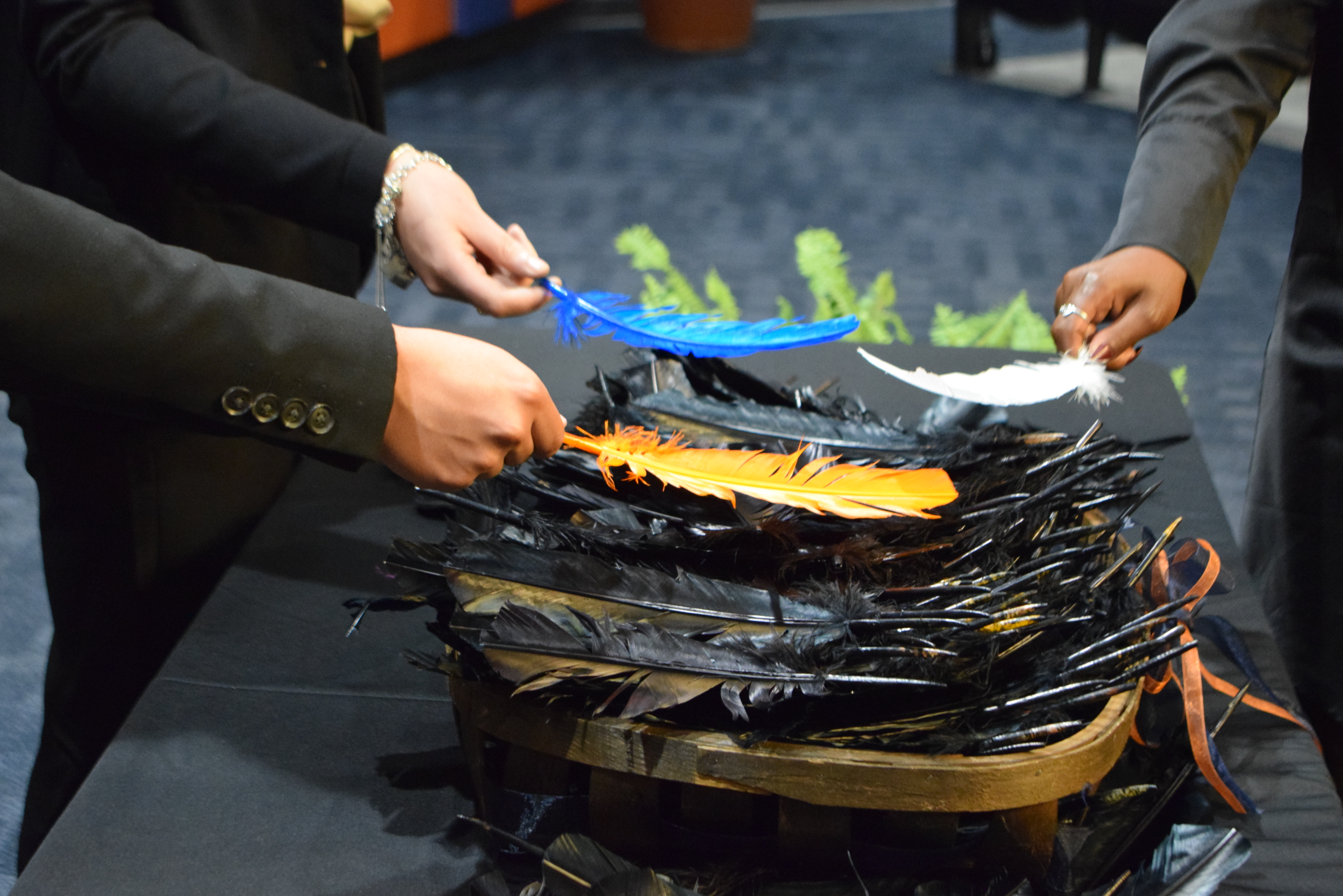 Join us in remembering the Roadrunners who have recently left us.
Pearl Allen
Olga Alvarez
David Amerine
Robert Amezquita
Regina Anderson
Michael Anderson
Phil Arnold
Roland Arzola
Stephen Babb
Kacie Banks
Charlotte Barrera
Michelle Barrera
Beatrice Barron
Mary Louise Becerra
Kenneth Bennett
Kathryn Bermudez
Cynthia Beza
Eva Biediger
Dee Bohne
Deborah Boldt
Christopher Bommer
Patricia Breheny
Sean Brower
Mark Burchard
Noe Bustamante
Alfredo Cabrera
James Callahan
Gregory Cameron
John Campbell
Arnold Cardenas
Dawn Carroll-Alexander
Jimmie Casias
John Chaplain
Katherine Chapman
Gary Coffey
Maud Coggs
George Colfer
Alfred Cordaway
Rachel Coward
Michael Crowe
Everett Crowell
Dora Cuellar
David Daniels
Amalia Davis
D.W. Day
Ismael De Leon
Rosa De Leon
Japon De Leon
Rudolph De Los Santos
Judith Dickey
George Digonis
Thelma Duffey
Rachel Dupnik
Deborah Echigo
Helen Eisaman
Ronald Elizondo
Greg Endicott
Jose Estala
Jesse Fahlsing
Yusheng Feng
Patricia Fennell
Kimberly Fischer
Thomas Fluckiger
Ofelia Fonseca
Michael Frazier
John Freeman
Diana Fullerton
Evalyn Fulmer
Scott Fulmer
Theresa Funari
Richard George
Betty Gideon
Danielle Goering
Gary Gold
Joe Gonzales
Diana Gonzalez
George Gonzalez
John Gries
Jo Gude
Ramon Guerra
Danika Guyton
Weldon Hammond
Hudson Hamner
Troy Hanson
Michael Harper
Johnnie Harris
Michael Hartfiel
Robin Hauf
Barbara Hendricks
Nora Hernandez
Janice Hightower
John Hill
Mary Holzer
Ronald Hrncir
Aimee Hudson
Mary Hullinger
Mark Ibarguengoitia
Janet Ihfe
Gabriel Infante
Robert Janusz
Susan Jarboe
Caitlin Jaworowski
James Jones
Leon Jones
Ronald Kelley
Terry Kennemer
Molly Killian
Eugene Knuth
Charles Kopecky
Roy Kotzur
John Kowalske
Justin Krawczynski
Doris Kruger
Rogelio Latigo
Mary Laux
Edward Leibl
Carol Lindsay
Kim Lines
Diane Lombard
Yolanda Long
Mary Lopez
Antonio Lopez
Charles Luker
Patrick Lynch IV
John Malone
Milton Martin
Bob Martin
Abel Mata
Susan Mc Intosh
Elizabeth McConnell
Geraldine McCorkindale
Patrick McDaniel
Nat McDormand
Barry McKinney
Elizabeth Moad
Alice Montgomery
M. M. Nishimura Nishimura
Susan Noble-Dickens
MicDaniel Nwokey
Lee Ochoa
Robert Paulk
David Perez
Danika Perez
Rafael Petition
Gerald Petrash
Nicholas Pimentel
James Platt
Susan Ploch
Margaret Plummer
Deborah Poole
Christina Powell
Steven Prosk
G.V.S Raju
Jose Ramirez
Janet Raue
Edwin Reed
Ines Reyes
Robert Reyes
Jesse Reyes
Mason Richardson
Laura Rivas
Nolan Robertson
Roland Rocha
Asa Rogers
Patrick Rooks
James Ryan
Michael Salazar
Rogelio Salinas
Carlos Sandate
Viviana Sandoval
Irma Schilling
Janice Scott
Zelly Sean
Charlene Seifert
Elba Sepulveda
Alexandra Seybert
Justin Shaum
Mark Sherwood
John Simonis
William Simpson
Walter Smith
Tanya Smith
Betty Snyder
Paul Spargur
Charles Squire
Ruth Steubing
Natalie Stewart
Stella Taylor
Harry Titus
Daniel Torres
Christina Tran
Ida Trevino
Alice Tschoepe
Vivian Valdez
Juan Valdez
Deborah Van Lent
Carol Van Tuyl
Rodolfo Viagran
William Warren
Janice Washington
Jack White
Herbert White
James Wilkerson
Mark Wilkins
Winnie Williams
Mattie Wilson
Bradley Wilson
Winifred Wimberly
Derek Winters
Eilene Wright
Pamela Xiromamos