UTSA to implement tobacco-free policy at three campus buildings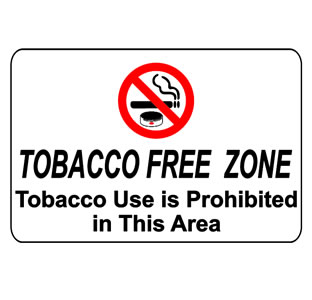 Share this Story
(Aug. 21, 2012) -- A new regulation from the Cancer Prevention and Research Institute of Texas (CPRIT) prohibits smoking and tobacco product use in facilities housing CPRIT-funded research. Because UTSA has several CPRIT-funded grants and anticipates pursuing more of such grants, three UTSA buildings housing those projects and adjacent areas will become smoke and tobacco product free effective Aug. 31.
In a second step of the process, in response to requests from many UTSA community members, next month, President Ricardo Romo will form a task force to begin discussion on how to make the three UTSA campuses tobacco free.
The new CPRIT regulation prohibits tobacco product use in buildings, parking lots, walkways and attached parking structures adjacent to structures in which CPRIT-funded projects are housed. By Aug. 31, tobacco-free reminder signs will be placed around the three UTSA buildings that house current CPRIT-funded research: Biotechnology, Sciences and Engineering Building (Main Campus), Applied Engineering and Technology Building (Main Campus) and Monterey Building (Downtown Campus). The Science Research Labs (Main Campus) also may be added if a new grant is awarded later this year.
Next month, in keeping with the interest expressed to the president, the task force will begin discussion on how to establish a tobacco-free policy for UTSA. With representatives from across the university, including tobacco users and non-users, the task force will establish the parameters of a policy, review approaches used by other Texas universities, develop a timeline for implementation, develop a communications plan and draft an updated UTSA Handbook of Operating Procedures (HOP) policy 9.36.
The group will present recommendations to the president and vice presidents in early spring 2013. Based on the recommendations, they will guide UTSA toward becoming tobacco free.
"The first step of this process ensures compliance with CPRIT regulations and is essential in maintaining current and future CPRIT research funding at UTSA," said President Ricardo Romo. "In the second step, the task force will lead further conversation and provide recommendations to evolve to a tobacco-free environment. I look forward to their input."
For more information, contact Sonia Martinez at 210-458-6887.