UTSA Main Campus to serve as early voting site for presidential election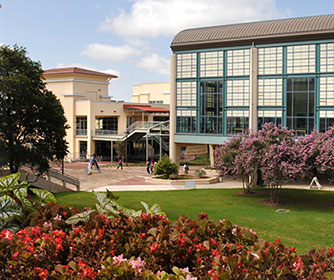 (October 14, 2016) -- The University of Texas at San Antonio (UTSA) will serve as a designated early voting site for the Nov. 8 presidential election. Any registered Bexar County voter may cast their vote for president starting Oct. 24 through Nov. 4 in the H-E-B University Center Bexar Room (HUC 1.102) at the UTSA Main Campus.
Earlier this semester, registered student organizations The Rowdy Votes Coalition and the UTSA Student Government Association, in collaboration with the UTSA Center for Civic Engagement, led a large-scale voter registration effort across all UTSA campuses. Collectively, the effort registered more than 1,000 students, faculty and staff.
Historically, the UTSA student body has high rates of voter registration. More than 65 percent of students are registered to vote, according to the National Study of Learning, Voting, and Engagement which crossed-analyzed data from the National Student Clearinghouse and voting records nationwide.
In order to encourage voter turnout and participation, the UTSA Main Campus has served as early voting sites for many elections, including the most recent Texas primaries.
Early voting times are:
Monday, Oct. 24 through Friday, Oct. 28
8 a.m. - 6 p.m.
Saturday, Oct. 29
8 a.m. - 8 p.m.
Sunday Oct. 30
12 p.m. - 6 p.m.
Monday, Oct.31 through Friday, Nov. 4
8 a.m. - 8 p.m. 
Voters will be asked to present an approved form of photo identification to vote. Acceptable forms of photo ID include:
Texas driver license, issued by the Texas Department of Public Safety
Texas Election Identification Certificate, issued by DPS
Texas personal identification card, issued by DPS
Texas handgun license, issued by DPS
U.S. military identification card with photograph
U.S. citizenship certificate with photograph
U.S. Passport
If the voter cannot produce these forms of identification, secondary forms of identification are permitted. For more information, visit the website of the Texas Secretary of State.
Early voting locations near the Downtown Campus include: the Bexar County Elections Department at 1103 S. Frio St or the County Justice Center at 300 Dolorosa.
On Election Day, Nov. 8, voters must vote at their designated precinct locations.
— Carolina Canizales
-------------------------------
Click to view a sample ballot.
Click to view a complete list of Early Voting locations
Connect with UTSA online at Facebook, Twitter, YouTube and Instagram.