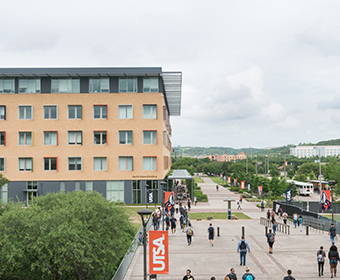 (July 7, 2017) -- An assessment team from the Commission on Accreditation for Law Enforcement Agencies Inc. (CALEA®), will visit The University of Texas at San Antonio (UTSA) on July 30, 2017 to examine UTSA Police Department policy and procedures, management, operations and support services. The visit is part of a voluntary accreditation process that UTSA undertakes every four years to ensure that its Police Department meets the Commission's highest standards of professional excellence.
"Having CALEA accreditation confirms the fact that we operate using the best practices and policies in law enforcement," said UTSA Police Chief Gerald Lewis. "It is the gold standard of law enforcement accreditation."
As part of the assessment, agency personnel and members of the community are invited to offer comments at a public information session at 3 p.m. on Monday, July 31. The session will be held in Biosciences Building 3.03.02 (BSB 3.03.02), located at the UTSA Main Campus.
Individuals who cannot attend the public information session but would like to provide comments to the assessment team may do so by calling 210-458-6991 on Tuesday, August 1, 2017 between 2 and 4 p.m.
Telephone comments and appearances at the public information session are limited to 10 minutes and must address the agency's ability to comply with CALEA Standards. A copy of the standards is available at the UTSA Police Department in the Bosque Street Building on the UTSA Main Campus.
Persons wishing to offer written comments about UTSA Police Department's ability to meet the standards for accreditation are requested to write:
Commission on Accreditation for Law Enforcement, Inc.
13575 Heathcote Blvd., Suite 320
Gainesville, VA 20155
The UTSA Police Department must comply with 484 standards to gain re-accreditation. If granted, the accreditation would last four years and the UTSA Police Department would be required to submit annual reports attesting continued compliance with those standards under which it was initially accredited.