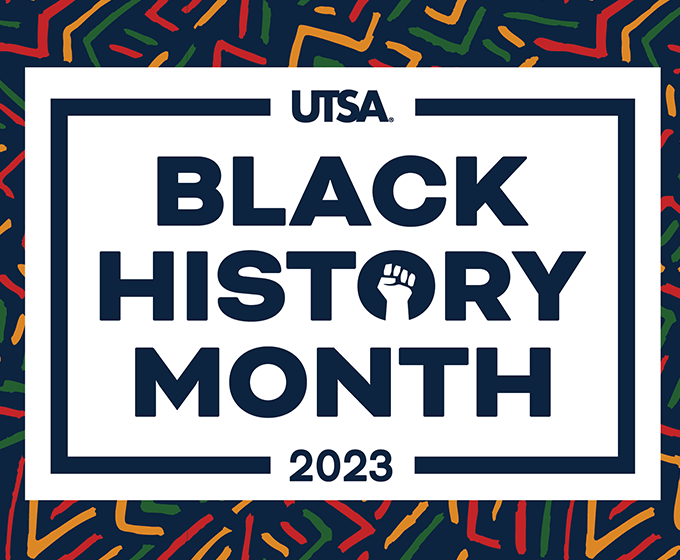 FEBRUARY 1, 2023 — Throughout February, UTSA will commemorate Black History Month by celebrating the lives, culture, contributions and history of the African American community. Themed "Resistance. Persistence. Excellence.," UTSA's Black History Month celebration features events across campus including keynote speakers, African quilt workshops, the Racial Justice Book Club and other programming.
This year, UTSA is bringing three keynote speakers for Black History Month. The first keynote, Gregory Hudspeth, currently serves as the president of the San Antonio Branch of the NAACP. Hudspeth will share his experience as a community leader, activist and how the NAACP activates communities worldwide. Hudspeth will speak virtually on February 2. On February 9, Chiquita Collins, vice president for diversity, equity and inclusion and chief diversity officer at UT Health San Antonio, will virtually engage in conversation regarding the theme, "Resistance. Persistence. Excellence." On February 23, this year's Dr. Martin Luther King Jr. Lecturer Fred Bonner will visit the UTSA community to discuss the role King's legacy plays in contemporary social justice issues.
An Evening with Gregory Hudspeth
Thursday, February 2 • 6 p.m. • Zoom
Hudspeth is a retired associate professor of political science at St. Philip's College. In May 2019, the Piper Foundation—a Texas nonprofit that supports the education of financially limited students—named him one of the top ten professors in the State of Texas. He earned his B.A. in government from Huston-Tillotson College in Austin, his M.A. in political science from St. Mary's University, and his Ph.D. in leadership studies from Our Lady of the Lake University.
San Antonio Spurs: Black Heritage Night Game
Friday, February 3 • 7 p.m. • AT&T Center, San Antonio
Enjoy this discounted offer for Black Heritage Night to watch the Spurs take on the Philadelphia 76ers. A portion of each ticket will support the Black UTSA student organization of your choice. The ticket purchase deadline is 5 p.m. on game day.
Black History Month Keynote: Chiquita A. Collins
Thursday, February 9 • 6 p.m. • Zoom
Collins is the inaugural vice president and chief diversity officer at UT Health San Antonio and the associate professor of population health sciences. She works closely with internal and external stakeholders to advance health equity and inclusive excellence across six schools: Dentistry, Nursing, Medicine, Health Professions, Public Health and the Graduate School for Biomedical Sciences.
Second Annual Diversity, Equity and Inclusion Symposium
Friday, February 10 • 8:30 a.m. to 1:30 p.m. • H-E-B Student Union Ballrooms (HSU 1.106)
The Carlos Alvarez College of Business and the Alvarez Student Success Center will host their Second Annual Diversity, Equity and Inclusion Symposium. The theme for this year is inclusive leadership. The featured keynote speaker will be Melissa Majors, author of "The 7 Simple Habits of Inclusive Leaders." She is also the creator of Melissa Majors Consulting, in'klooded® and Community Keynotes®, a digital story-telling platform. She is an innovator of education, inclusion and leadership strategies and has dedicated her career to maximizing the business impact associated with these areas of focus.
Contemporary African Americans in Digital Media and Technology
Tuesday, February 14 • 10 to 11 a.m. • Student Union Willow Room (SU 2.02.12)
Join University Technology Services in celebrating Black History Month and learn about prominent African American figures in digital media, technology and related disciplines. A panel of UTS Bold Careers Interns and Ambassadors will discuss and celebrate the technology advancements that have been made by African Americans over the past few years. Audience members can join virtually or in person. The event is open discussion and will allow for live questions to be answered by our presenters.
NAACP Silent Library
Wednesday, February 15 • 11 a.m. to 2 p.m. • Paseo, Sombrilla Plaza, Student Union Entry and John Peace Circle
The UTSA Chapter of the NAACP's annual Silent Library allows students to bring awareness to highlight the racially motivated injustices Black people and communities of color experience. Each participant will be assigned a different fallen person's name along with their legacies to highlight their humanity and uplift stories.
Black History Month Kickoff
Wednesday, February 15 • 6 p.m. to 8 p.m. • Student Union Denman Ballroom (SU 2.01.28)
(Due to winter-weather modality changes, this event was rescheduled for February 15)
The first annual Black History Month Kickoff welcomes the new and returning Roadrunner community to UTSA to celebrate Black History Month. The event features tables with information about available resources on campus and opportunities to meet and connect with the Black faculty, staff and student organizations on campus. There will also be games, food, music and giveaways throughout the event to keep the students engaged.
Dr. Martin Luther King, Jr. Annual Lecture: Fred Bonner
Thursday, February 23 • 6 p.m. • Zoom
The UTSA and San Antonio community are invited to join Bonner, Endowed Chair in Educational Leadership and Counseling and founding executive director of the Minority Achievement, Creativity and High-Ability Center at Prairie View A&M University. The Martin Luther King, Jr Annual Lecture honors the legacy of Dr. King's activism while also addressing current issues including inequalities in education, the justice system and the economy. We are honored to have Bonner serve as this year's Lecturer.
Visit the Black History Month website for more information, including the full calendar of events.