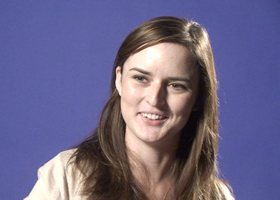 Cara Ward
---
Cara Ward balanced hectic class and work schedules to earn her degree
---
Biology major/Honors student looks to one day make the rounds as a medical physician
Meet Cara Ward. When she walks across the Alamodome stage to receive her bachelor's degree in biology from the College of Sciences, it will mark the end of a long and hard-fought journey for the 21-year-old Austin native. Additionally, Ward will graduate with highest honors from the UTSA Honors College.
Raised in a foster family, the Lake Travis High School graduate excelled in high school and was accepted to several universities around the country. However, the financial price tags to attend those schools were more than she could afford. Disheartened, but not defeated, Ward decided to pursue her dream of becoming a medical doctor and enrolled at UTSA with the help of a financial aid package.
After getting through a rough first semester with new financial adjustments and responsibilities, Ward flourished academically and found herself becoming more involved in campus activities.
She held several leadership positions in the Alpha Epsilon Delta premedical society and was inducted as a member of the Phi Kappa Phi honors society. Teaching and Research in Environmental Ecology fellowship and was elected secretary of the Global Health Brigades, a new UTSA society focused on improving medical care services in Honduras.
In addition to her campus involvement and rigorous class schedule, Ward works in the College of Sciences' dean's office at the Downtown Campus where she assists with the development of a Biosciences II class. She also spent two years with the Baptist Health Care System, employed as an emergency department scribe assisting physicians and patients.
For her outstanding efforts, Ward has received the College of Sciences' Presidential Scholarship, the College of Sciences Letitia and George Riley Annual Scholarship, the Dr. Ruskin Norman & Karen Norman Endowed Scholarship, and the Sagik Memorial Scholarship Award, which is awarded to first-generation college students.
Ward hopes to attend medical school in Texas and has already visited UT-Southwestern in Dallas and UT-Medical Branch in Houston.
"I always like to challenge myself and that's why I chose medicine," said Ward.
"It's multi-faceted and keeps your feet in different doors. In addition to being a doctor, sometimes you are also a sociologist, psychiatrist, social worker and a business person, depending on the situation."
– Kris Rodriguez