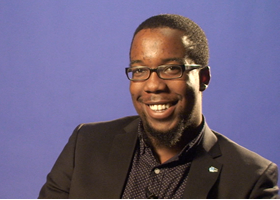 Obi Okolo
---
Nigerian Obi Okolo found his path in life by studying architecture, interior design at UTSA
---
Professor Mark Blizard's Architecture and Culture class solidified undergrad's interest in the field
Meet Obiekwe Okolo. He's eager to use his UTSA degree to serve humanity.
Okolo attributes his propensity for service to his Nigerian heritage, which puts society before the individual. The 23-year-old spent the first half of his life in his hometown of Lagos, Nigeria and the latter half in San Antonio.
Before Obi began at UTSA, he had intended to attend school for a music degree. After the hard decision to pursue something conventionally more secure, he enrolled in Professor Mark Blizard's Architecture and Culture class and instantly decided that architecture and interior design was where he wanted to be in life. That was the semester that Blizard showed him that architecture and design are, in many ways, music frozen in time.
While at UTSA, Okolo became active in the UTSA chapter of the American Institute of Architecture Students. He joined the organization as a sophomore and now serves on its national board as director of the south quadrant, which includes 48 chapters and approximately 1,700 students. He's proud to be a voice for students and an advocate for the profession.
In the future, he plans to further develop his Web-based philanthropic and pro-bono design-build initiative, Buildsocial, a global crowd-funding platform that allows anyone to participate in community-conscious architecture and design efforts. Anyone can donate as little as $5 toward making life-changing design solutions a reality for people who couldn't normally afford them. The project has grown much faster that he and his team ever anticipated.
"College is a constant struggle, and my UTSA professors guided and helped me in turning that struggle into success," said Okolo, who notes that architecture faculty Vincent Canizaro and Diane Hays also greatly influenced him, challenged him to succeed and encouraged him. "They were big mentors for me and helped me find that balance and were tremendous advocates while I was here."
Okolo will graduate this semester with a UTSA bachelor's degree in interior design.
– Tim Brownlee