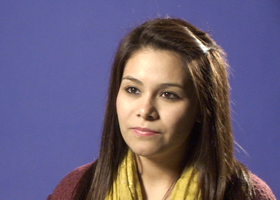 Zaida Flores
---
Criminal justice honors student Zaida Flores aims to help immigrants become U.S. citizens
---
UTSA experience teaches her to be self-reliant, disciplined and persistent
Meet Zaida Flores. The Honors College student aims to use her degree to help undocumented immigrants legally become U.S. citizens.
It's a situation all too familiar to Flores. As a young child, she was an undocumented immigrant, and it wasn't until 2007 that she earned her green card. Recently, she became a U.S. citizen, an unforgettable moment that made her very proud.
She plans to give back and enable others to have the same sense of pride and achievement that she has attained at UTSA.
When Flores first enrolled at UTSA, everything was new to her. She was used to the small town life of Giddings in East Texas, and she found it a challenge to balance social life with classes.
But she says UTSA was the perfect fit, and she credits three people with helping make the university and San Antonio her home away from home.
Her mother was her rock. She taught Flores the values of working hard and never giving up on your dreams. Likewise, Freshman Composition instructor John Helton taught Flores the importance of discipline and of persistence in getting through tough times. Marilyn Caskey, who owns a small clothing consignment shop and for whom Flores has worked for nearly three years, has been a strong mentor -- a person Flores characterizes as being selfless and devoted to helping others.
The best advice the criminal justice major ever received was to not let failure get you down, to look for the good in what you've done and then figure out how to better it next time.
"I'm sad and happy and scared about graduating," said Flores. "I'm sad because I'm going to miss the people I've come to know here because it has been like a second home. I'm happy because I'll be moving on to my future and seeing what opportunities that are there. I'm scared because you never know what the future holds, but I think that's a good thing. I have learned so much at UTSA about learning how to be self-reliant and always doing your best."
Flores graduates this month with her bachelor's degree in criminal justice and a minor in psychology.
– Tim Brownlee