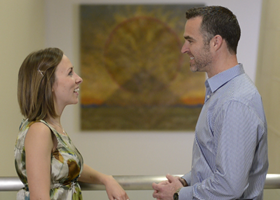 Reba Juhasz and Joshua Sandlin
---
UTSA power couple
---
Husband and wife graduate with Bachelor's degrees in public health
A chance meeting at a local hangout brought Reba Juhasz, 27, and Joshua Sandlin, 34, together in 2009. It was a simple conversation at first. Then, a friendship grew. Before long, the pair realized they were meant to be together. They married in 2012 and now have a seven-month-old daughter.
Despite demanding work and parenting schedules, however, the couple has remained steadfast in their educational goals.
Juhasz and Sandlin took courses at San Antonio College before transferring to UTSA in spring 2011. And each declared a biology major with plans to attend medical school following graduation. But they both felt like they wanted something more from their undergraduate experience. They consulted with Alan Vince in the UTSA Health Professions Office.
Vince told them about the Public Health degree program UTSA was developing at the time. When he shared the proposed course list with them, they realized they'd found gold. The bachelor's degree in Public Health coupled with a Biology minor would give them the best of both worlds – a way to explore the social issues confronting society while getting the instruction they needed in science.
UTSA's undergraduate degree program in Public Health is offered through University College. The academic program includes courses such as Health Disparities, Behavioral Epidemiology and Global Health, Juhasz's favorite. It also includes Medical Sociology, which really piqued Sandlin's interest.
"The Public Health degree gave us the well-rounded curriculum we were looking for," said Juhasz. "It was evidence-based social science. We learned to draw conclusions from empirical evidence in a way that would allow us to directly impact society in a meaningful way."
Sandlin added, "We knew we wanted to work in a scientific field that would allow us to directly help people. The Public Health degree was a way to become more well-rounded – to get the sciences but to also explore the social factors related to medicine."
Pursuing a degree program together, however, was not without its faults. The married couple quickly learned that some classes were better spent apart.
"We learned not to take physics and chemistry together," admitted Juhasz. "Josh is really good at Physics; it just comes naturally to him. I have to look at it through a math lens."
Sandlin added, "It frustrated me to see how easy Chemistry came to Reba. I really had to work at it to keep up."
Generally, though, Juhasz and Sandlin found that studying together helped them "cement important concepts."
"We've learned to listen and to strongly consider the other's opinion," said Sandlin. "That's really helped us learn."
Now the pair has their eyes set on medical school.
"We've been told the first and third years of medical school are the most demanding," said Sandlin, who, like his wife, works as a medical scribe in the emergency room at Southwest General Hospital on the weekends. "So we've decided to stagger our start dates to accommodate being parents."
Sandlin has already applied and gained acceptance into three medical schools and an osteopathy school. He will begin medical school at Texas A&M, College Station this fall.
Juhasz plans to apply for medical school in a year.
So what happens if things change?
"We have Public Health degrees; we have our Plan B in place," said Juhasz. "The market for public health jobs is fantastic. We have a lot of friends who secured jobs back in March, months before graduation. When you're well-rounded, there will always be a great job waiting for you."
– Christi Fish