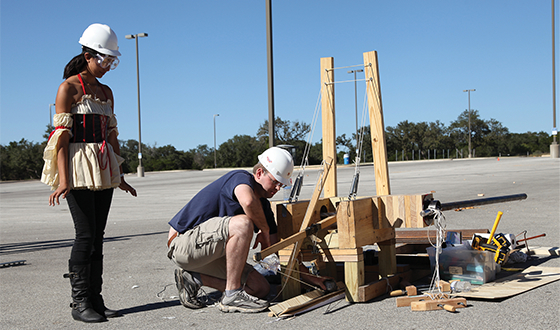 Engaging Community Outreach
What do science experiments, robots, and pumpkin-hurling trebuchets have in common? UTSA Engineering. The annual Monster Mash Pumpkin Smash, Interactive Technology Experience Center's (iTEC) summer and spring break camps, engineering summer camps, and the Getting Excited About Robotics (GEAR) and For Inspiration and Recognition of Science and Technology (FIRST) robotic competitions are all part of the College of Engineering's outreach programs.
In order to expand science, technology, engineering and math (STEM) awareness, the college is reaching out to the community by creating interactive programs that help excite students about and prepare them for STEM-related fields.
"UTSA's College of Engineering offers such a rich selection of hands-on engineering events and programs, which allow visitors to experience STEM in an inviting and exciting light," said Brandy Alger, assistant director for Engineering Outreach. "STEM interest is very low in the nation, especially for minorities and women; consequently, we are in a losing battle for the passion and interest of a crucial component of the community that may have a front row seat in changing the world. That being said, by allowing students to experience these programs first-hand we can change the point-of-view of minority youth about STEM and ultimately change the future for these students."
Each year, iTEC offers San Antonio area kindergarteners through 12th graders a week long spring break camp and several week long summer camps featuring topics like exploring robotics, microbiology, human biology, geology, science, food chemistry, aviation, weather, forensics, biomedical and even rollercoasters. Participation in the camps has skyrocketed from 100 in 2009 to nearly 1,000 in 2013.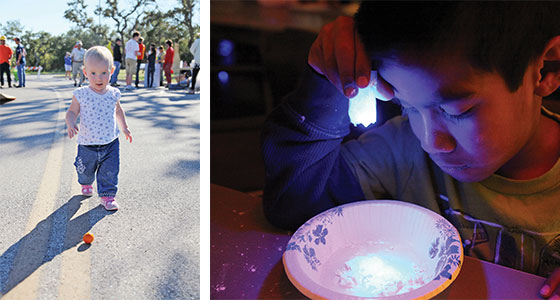 "Students are given the opportunity to experience STEM curriculum while utilizing several different education platforms," Roberta Bauer, program coordinator said. "The unique iTEC experience challenges students in several major scientific fields through customized lesson plans.
"Our lesson plans encourage young scientists to excel in advanced problem solving situations that require efficient use of time, energy and teamwork. The sense of accomplishment and confidence fostered by the iTEC experience has the potential to elevate students' understanding of the world around them through the scope of science and technology," she added.
Although iTEC's primary focus is on younger age groups (kindergarten through eighth grade), the College of Engineering offers a series of week-long overnight camps, featuring more advanced science and engineering experiences, along with age-appropriate recreational opportunities for high school juniors and seniors.
"I loved this camp," said Carmelo Alcorta, a high school student who participated in one of the summer camps. "I have learned so much from everyone I can't wait to start going to college to major in mechanical engineering."
Aside from camps, the college also supports a number of robotics competitions for various age groups. iTEC and the college host the annual G.E.A.R. competition in which elementary and middle school teams design robots that navigate through a series of obstacles. The competition not only awards teams that complete the obstacles with the highest scores, but also gives trophies for things like overall best design, best team uniform, and unique problem solving. G.E.A.R. encourages both STEM-related learning and fundamentals such as teamwork.
For high schoolers, the college coordinates the Alamo Region FIRST kick-off and attends the competition, hosting a booth describing UTSA Engineering. Accomplished inventor Dean Kamen, founded FIRST in 1989 to inspire an appreciation of science and technology in young people. The FIRST Robotics Competition (FRC®) is an annual competition that challenges high-school students—working alongside professional mentors—to build and program their own robots which they then pit against a field of competitors in order to experience the excitement of science, engineering, technology and innovation.
The student council and student organizations within the college also actively participate in outreach. They provide mentorship and classroom visits to various San Antonio schools. Students also host the Monster Mash Pumpkin Smash STEM Fest which challenges students of all majors to design and build a medieval trebuchet that will launch and destroy a pumpkin. The current distance record is more than 700 feet.
In addition to slinging pumpkins, the festival includes engaging hands-on science experiments for the kids, a costume contest, virtual-reality roller coaster, moon bounce, dunk tank and other family-friendly activities.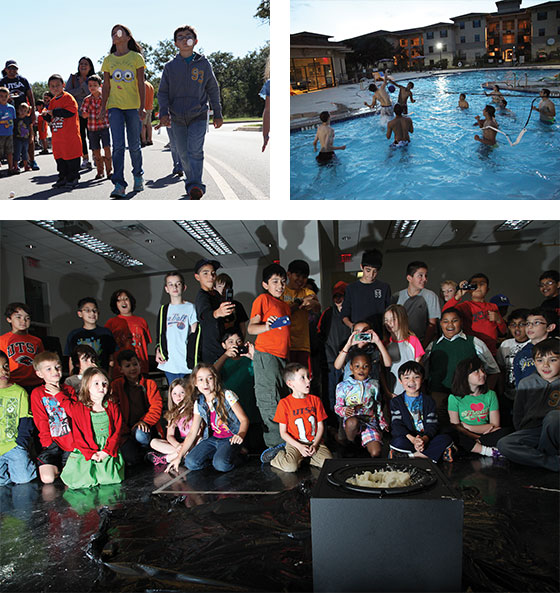 Through partnerships with local schools and industry, The College of Engineering brings STEM activities to the community at large providing many students their first hands-on experiences in STEM topics.