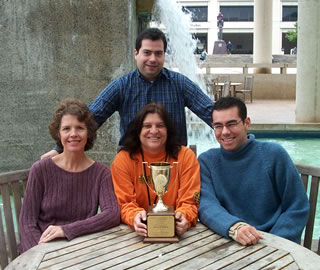 UTSA team takes second in statewide Web site accessibility design competition
(Nov. 10, 2003)--Competing against teams from IBM, Dell, Grande Communications and others, a UTSA team placed second for small Web site design in the 6th annual Accessibility Internet Rally for Austin (AIR-Austin) October 18 at the St. Edwards Professional Education Center in Austin.
The UTSA group is a cross-office collaboration consisting of team members Joseph McBride, Internet development/university communications; Ruben Ortiz, student affairs; Lorraine Harrison, disability services; Jeanette Gauthier, student computing services and LaVonne Grandy, distance learning and academic technology.
Pictured at the Sombrilla Plaza, 1604 Campus, is the award-winning Web-design team: Team leader Ortiz (standing) and (seated, from left) Harrison, Gauthier and McBride. Grandy was unavailable for the photograph.
The purpose of the AIR contest is to provide accessible, well-designed Web sites for nonprofit organizations in Central Texas. The scope of the competition is to inform and train Web professionals in the art of accessibility design for the Web and to use that knowledge in a one-day competition event to build functional sites for various nonprofits in the area.
"It was a great event!" said McBride. "It provided UTSA the opportunity to meet and network with some of our peers while giving back to the community."
Ortiz had similar thoughts. "It was a good inter-office collaboration," said Ortiz. "Working together on this project has developed better working relationships when applied to our everyday activities at UTSA. Hopefully, together we can make UTSA's Web sites more accessible to the public."
"This was a wonderful opportunity to have a cross-collaborative team represent UTSA and do so well compared to some of the big names that were at this event," said David Gabler, assistant vice president for university communications. "While this event took place in Austin, it would be good for UTSA and the city to sponsor a similar event here in the future to showcase the talent and community spirit of San Antonio."
For more information about Web accessibility and AIR-Austin, visit the Knowbility Web site. The site focuses on the development of accessible technology to support the independence of people with disabilities.