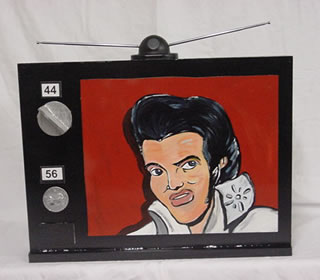 Artworks by Xavier Garza portraying Pedro Infante (top) and Elvis Presley
Institute of Texan Cultures exhibit showcases Mexican and American cultural icons
(Sept. 7, 2004)--Whether you watched Superman or El Cepillin, get ready to tie a towel around your neck and save the world again after viewing the exhibit, "Mexican-American: Uncommon Icons," on display during Hispanic Heritage Month, Sept. 15-Dec. 19, at UTSA's Institute of Texan Cultures.
The exhibit by local artist Xavier Garza consists of a series of wooden television replicas that showcase iconic television and movie characters that have served to both join and separate today's Mexican and American pop culture.
---
Today's headlines
Article tools
---
"Growing up along the border, we watched both Mexican and American television and through this we were introduced to these dual cultures," said Garza. "It's an experience not only shared by Hispanics, but also by others who grew up in the same environment."
Two of the works in the exhibit compare the lives of music and screen legends Elvis Presley and Pedro Infante. Handsome and charming, both reached iconic status, yet died relatively young and under tragic circumstances. Each continues to be the subject of articles, books and documentaries, and their faces can be found in tabloids in their respective countries with headlines that herald them as being alive.
The exhibit is included with ITC admission. For more information, call 210-458-2330 or visit the
Institute of Texan Cultures
Web site.