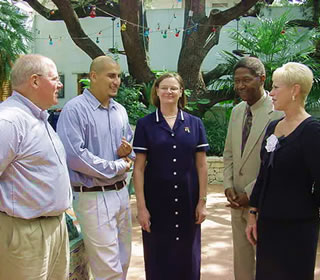 UTSA coordinates participation in Mentoring Week Sept. 12-18
(Sept. 16, 2004)--Growing up on San Antonio's West Side, Roland Orta wanted to succeed in school and life, but didn't know what direction to take or what he wanted to be. All that changed with a chance encounter through a mentoring program.
"Being a mentor and getting to know Roland has been as beneficial for me as it is for him," said Linda Woodard, executive director of USAA community educational programs and Orta's mentor. "Through the years, our relationship has grown, and he has become like a son to me."
Woodard continues to mentor Orta, who will graduate this fall with a bachelor's degree in history from Texas Lutheran University.
The San Antonio: Making Mentoring A Partnership (SA:MMAP) program connects mentors from businesses, higher education and professional organizations with students in Bexar County schools. Established by the Greater San Antonio Chamber of Commerce in 1998, the program was transferred in 2001 to the UTSA Office of K-16 Initiatives and Honors College.
---
Today's headlines
Article tools
---
Pictured at the Mentoring Week kick-off luncheon are sponsor Cappy Lawton; mentee and luncheon speaker Roland Orta; Linda Woodard, mentor and USAA community educational programs executive director; Wally Pope, UTSA Mentoring Week program coordinator and Cynthia Krockenberger, SA:MMAP Task Force chair.
Since Mentoring Week began, more than 6,461 volunteers have served more than 37,000 students in mentor programs. Mentor support programs established in 58 companies and 11 organizations fostered the initiative.
"We're asking for something that everyone wants in San Antonio -- to help students reach their maximum potential," said Ricardo Gonzalez, director of the UTSA Office of K-16 Initiatives and Honors College. "We need assistance from local communities and businesses to achieve that goal."
Mayor Ed Garza kicked off Mentoring Week on Sept. 9 with a proclamation given to UTSA President Ricardo Romo at City Hall. City Council members will participate this month by reading to children at local elementary schools.
For more information about SA: MMAP, contact Ricardo Gonzalez or Wally Pope in the UTSA Office of K-16 Initiatives and Honors College at 210-458-2769.