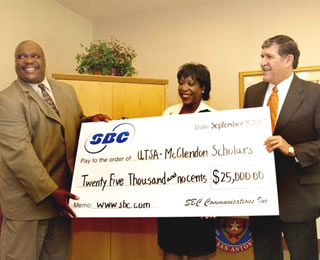 UTSA, Rep. McClendon unveil legislative intern program
(Oct. 1, 2004)--A $50,000 scholarship program awarding five UTSA students internships with the Texas House of Representatives as the McClendon Scholars was unveiled Sept. 30 by UTSA President Ricardo Romo and Rep. Ruth Jones McClendon.
Each student will earn $2,000 a month January through May and receive up to 12 college credit hours for spending the 2005 legislative session on the hill working for elected officials. The program, in its debut, is a collaborative effort between McClendon and UTSA.
---
Today's headlines
Article tools
---
Pictured are Douglas Heath, SBC Communications Inc. executive director for state legislative and regulatory affairs; McClendon and Romo with a representation of the SBC gift toward the scholarship program.
"Our students need to get out of San Antonio and see what's going on in the rest of the state," said Romo. "They will learn to understand government, and they will see how they can serve this great state."
The five interns must be enrolled in degree-granting programs at UTSA with at least 60 college credit hours already completed. They will be assigned to work in the offices of members of the Texas House of Representatives throughout the session.
According to the program materials, "Good judgment, independent thinking and a high degree of ingenuity, resourcefulness and professionalism are critical to the successful management of an intern's responsibilities."
McClendon, who was elected to serve in the House of Representatives in 1996, was the first African-American female to serve on the San Antonio city council.
"When a person wants to change laws, he has to go way beyond text books to where laws are conceived, modified, passed and defeated." said McClendon. "You must have experience to really understand the process, but that experience is really hard to come by. It's a difficult group to break into, and most people don't even know where to begin. I want to help the students of San Antonio who want to get involved in the rough and tumble world of the Legislature.
Two students either currently residing in McClendon's legislative district 120 or who attended primary or secondary school there will be chosen, along with one student minoring in African-American studies. The remaining two spots do not have special criteria. Deadline for applying is Nov. 1. An officially recognized scholarship committee from UTSA's Institute for Law and Public Affairs will select the five students.
"What we have with the McClendon Scholars program is the creation of a leadership incubator in San Antonio," said Richard Gambitta, director of the UTSA Institute for Law and Public Affairs. "This provides the funding that is necessary for so many of our students to elevate the experience to a very meaningful one. It will be an exciting 140 days for our students."
The UTSA Institute for Law and Public Affairs is responsible for the coordination of the program. The institute's three-part mission is to educate students by developing one of the nation's premier pre-law programs, to establish a major research consortium of scholars and professionals collaborating on world-class research projects, and to serve the community through lecture series, symposia and town meetings on topics of importance to South Texas.
The McClendon Scholars Program may be taken to other colleges and universities within the state in future years.
For more information, contact Richard Gambitta at 210-458-2990.