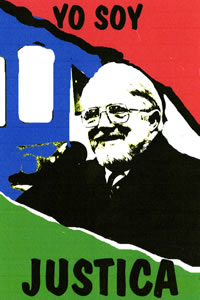 Fox Tech mural panels
UTSA President Ricardo Romo to salute Latino heroes at May 23 Fox Tech mural unveiling
(May 20, 2005)--UTSA President Ricardo Romo will participate in the unveiling ceremony of a student mural project at 8:30 a.m., Monday, May 23 at Louis W. Fox Technical High School, 637 N. Main Ave. The ceremony is free and open to the public.
Romo, a Fox Tech alumnus, will be joined at the ceremony by U.S. Rep. Charles A. Gonzalez (son of the late Rep. Henry B. Gonzalez), San Antonio artist and Judge Daniel Guerrero, Artpace San Antonio Executive Director Kathryn Kanjo and Fox Tech art teacher Maria Leake.
---
Today's headlines
Article tools
---
In the mural, images of role models in the San Antonio Latino community are represented in four six-by-four-foot panels with descriptive words of the individuals. Created from February 21 to May 5, the mural will be on permanent display at Fox Tech on the wall at the North Main Avenue side of the school.
The mural project with the theme "Yo Soy el Futuro" (I am the Future) optimistically represents cultural role models chosen by Fox Tech students. "Yo Soy una Voz" (I am a Voice) registers the legacy of Presidential Medal of Freedom recipient Willie Velasquez. "I am Change" personifies community activist and teacher Emma Tenayuca. "Yo Soy Justicia" (I am Justice) reflects the mission of Carlos Cadena, chief justice of the Texas Fourth Court of Appeals. "I Am a Leader" captures the spirit of Rep. Henry B. Gonzalez.
The mural is part of the Artpace's ArtElements program, which serves K-12 audiences with curriculum-linked programs and participatory projects with visiting artists. Through the 12-week program, an artist partners with students to create a permanent artwork for the school's campus.
Daniel Guerrero, municipal court judge and local artist, was selected to lead the Fox Tech art project, guiding the students to understand how individuals can make a difference in society.
Artpace San Antonio is a nonprofit organization that serves as an advocate for contemporary art and as a catalyst for the creation of significant art objects. Founded in January 1995, the organization has garnered national recognition for its residency, exhibition and public educational programs.
For more information, contact Artpace representative Libby Tilley at (210) 212-4900.