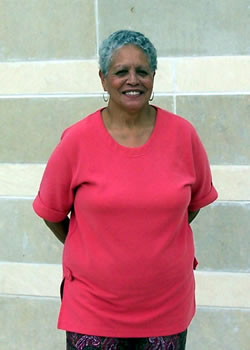 Nereida Reyes
Commencement Close-up: Nereida Reyes is a great-grandmother who knows how to write... and cook
(May 12, 2005)--It has been a long journey for Nereida Reyes. After two marriages, three children and taking care of her parents, Reyes will get her chance to walk across the stage Friday, May 13 to receive a UTSA bachelor's degree in English -- just three weeks short of her 69th birthday.
Reyes' story is one of perseverance. She grew up in Spanish Harlem in New York City, moved to Brooklyn and dropped out of high school to get married. After her first marriage failed and she moved to California, she remarried and raised three children.
---
Today's headlines
Article tools
---
After her second marriage ended in 1972, she needed a job and became the first minority manager of the book department of a store in California and then worked at Waldenbooks for 11 years.
"I have always loved books," Reyes said. "That's one of the reasons why I decided to pursue an English degree."
In 1981, she earned a GED and although she wanted to continue her education, the responsibilities to her family came first. Reyes raised three children, helped raise grandchildren and for 11 years took care of her elderly parents.
In 1997, her mother told her, "Mija, go to school -- I'll be alright." Reyes decided it was time to get a college education and enrolled in St. Philip's College in San Antonio.
She attended St. Philip's for four years before coming to UTSA. The change from a community college to a university impressed Reyes. "Entering UTSA felt like coming through Grand Central Station," she said.
As an English major at UTSA, she is in the Honors College and wrote an honors thesis titled, "Testimonios de una bisabuela que sabe cocinar" (Testimonies of a Great-Grandmother Who Knows How to Cook). The thesis is a collection of poems and vignettes about her ancestors and experiences growing up. She hopes to expand it to include more recent events in her life and then to get it published.
Reyes plans to pursue a master's degree in English and then look for a part-time position as a professor at St. Philip's College. "I'll keep going as long as doors keep opening and God provides," she said.
Reyes will participate in the UTSA Honors College ceremony at 2 p.m., Friday, May 13. "I did not get to wear a prom or wedding dress -- I am not going to miss wearing my cap and gown," she concluded.