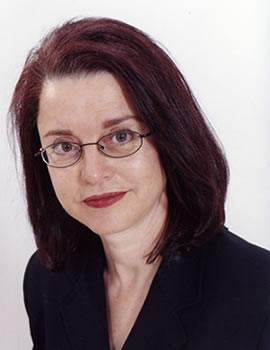 Zorica Pantic-Tanner
UTSA engineering dean named WIT president
(June 8, 2005)--Zorica Pantic-Tanner, dean of the UTSA College of Engineering, has been named president of the Wentworth Institute of Technology in Boston, Mass. Pantic-Tanner, one of only 16 female engineering deans in the United States, will become the first female president in the 100-year history of the institute.
"All of us at UTSA are proud of Dean Pantic-Tanner's accomplishments," said UTSA President Ricardo Romo. "During her time at UTSA, she implemented three new Ph.D. programs in the College of Engineering, contributing greatly to UTSA's efforts to become one of the top 100 research universities in the nation."
Since joining UTSA in 2001, Pantic-Tanner helped the UTSA College of Engineering increase its enrollment by 75 percent with more than 1,600 undergraduate students and 200 graduate students enrolled in its programs.
The college also created the Department of Biomedical Engineering and the Center for Response and Security Engineering and Technology, doubled the number of faculty and increased its research funding ten-fold to $7 million in active grants. Hispanic Engineer and Information Technology Magazine ranked the college 16th among the top producers of Hispanic engineers in the United States.
While at UTSA, Pantic-Tanner was instrumental in securing $2.5 million in federal funding to establish the Material Science and Engineering Laboratory at the former Kelly Air Force Base. Through strategic partnerships with various state and national agencies, national companies and small businesses, she raised more than $5 million in various donations and equipment grants. Pantic-Tanner, who formally begins her duties Aug. 1, will succeed John Van Domelen, who is retiring after a successful 15-year tenure.
"My mission is to build on the major achievements of President Van Domelen, who has transformed Wentworth from a small commuter technical school into a nationally recognized, fully-accredited, co-op institution that continues to be one of the most affordable and highly regarded technical colleges in the country," said Pantic-Tanner.
Pantic-Tanner received her B.S., M.S. and Ph.D. degrees in electrical engineering from the University of Nis in Yugoslavia, where she became an assistant professor and associate professor in the Department of Electronic Engineering.
Since 1999, under Romo's leadership, three UTSA deans have become college presidents. In addition to Pantic-Tanner, Jim Gaertner, former dean of the College of Business, is president of Sam Houston State University and Blandina Cardenas, former dean of the College of Education and Human Development, is president of UT Pan American.
Read more about Zorica Pantic-Tanner at the Boston Globe.