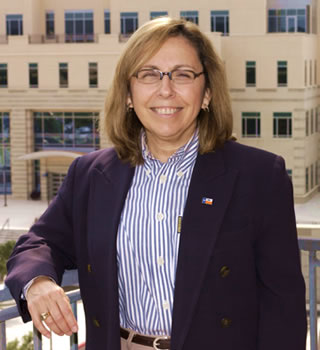 Lynda de la Vina
Business dean named to technology committee
By Wendy Frost
Associate Director of Public Affairs, College of Business
(Aug. 23, 2005)--UTSA College of Business Dean Lynda de la Vina was appointed to the 17-person advisory committee for the newly created Emerging Technology Fund by Gov. Rick Perry.
The committee, which is comprised of leaders, entrepreneurs and research experts, will make recommendations to the governor, lieutenant governor and speaker of the house on collaborations, investments, research grants and recruitment associated with the Emerging Technology Fund.
---
Today's headlines
Article tools
---
"Texas is taking a significant step to ensure that the benefits from technological innovations accrue to Texas colleges, Texas workers and the Texas economy," said Perry. "The Emerging Technology Fund will give Texas the competitive edge we need to ensure greater opportunity, prosperity and a brighter future for all of our people."
Perry proposed the fund in 2004, and it was established by House Bill 1765 this June with $200 million in funding. The fund was created to foster innovation, research and job creation in emerging high-tech industries such as semiconductor manufacturing, biotechnology, nanotechnology, environmental sciences and advanced energy.
"I am delighted to be nominated for this prestigious appointment, and I look forward to joining with my peers to administer this fund to better serve the State of Texas," said De la Vina. "As San Antonio transitions from a military and tourism-based economy to a health and biotech economy, initiatives such as this from Gov. Perry will be crucial to our future economic success."
De la Vina is joined on the committee by Bill Morrow, an alumnus of the College of Business and founder of Grande Communications.
The committee's chairman is David Spencer, president of OnBoard Software of San Antonio. Spencer has served on the advisory board for UTSA's Center for Infrastructure Assurance and Security and is a founding board member of the San Antonio Technology Accelerator Initiative, a public and private venture to foster new technology.