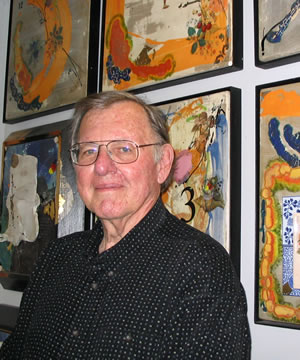 Steve Reynolds
Southwest School of Art and Craft presents Reynolds retrospective Sept. 1-Oct. 20
By Bronwyn Wingo
Special Projects Writer, UTSA '05
(Aug. 31, 2005)--The Southwest School of Art and Craft presents "Steve Reynolds: Solo Exhibition" from Sept. 1 to Oct. 20 in the Russell Hill Rogers Gallery at the Southwest School of Art and Craft Navarro Campus, 300 Augusta St.
Steve Reynolds, a recently retired professor of art and art history, taught ceramics at UTSA for 27 years. He received the 2004 President's Distinguished Achievement Award for Excellence in Creative Production.
---
Today's headlines
Article tools
---
An opening reception for the show, free and open to the public, is 5:30-7:30 p.m., Thursday, Sept. 1.
The works in the exhibition represent several periods of the artist's career, yet share similar "generative DNA," as Reynolds notes.
A longtime leader in ceramics education, Reynolds served in various leadership roles with the National Council on Education in the Ceramic Arts. During his tenure at UTSA, he traveled for various residencies and symposia to countries including Korea, Norway, Australia, Czechoslovakia, Russia, Latvia and Great Britain.
The Southwest School of Art and Craft is one of the largest community-based art schools in the United States, hosting more than 200,000 students and visitors each year at its two campuses.
For more information, contact the Southwest School of Art and Craft at (210) 224-1848.