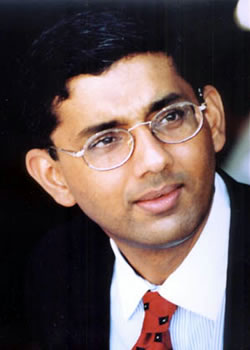 Dinesh D'Souza
Author Dinesh D'Souza to speak Sept. 28 at UTSA
By Kareem El Dahab
Student Writer, College of Liberal and Fine Arts
(Sept. 26, 2005)--Movement for the Future, a new UTSA student organization, will host a lecture by author Dinesh D'Souza at 6 p.m., Wednesday, Sept. 28 in the Main Building Auditorium (0.104) at the 1604 Campus. D'Souza will speak on "Iraq and the Dilemma of American Empire," followed by audience questions and a book signing. Admission is $10, free for UTSA students with UTSACard.
---
Today's headlines
Article tools
---
Because seating is limited, students are advised to pick up tickets at the Movement for the Future information table at the Humanities and Social Sciences Building first floor, 1604 Campus, from 9 a.m. to 3 p.m.. Tuesday and Wendesday. The organization will have D'Souza's books available for $20.
One of the most highly regarded conservative thinkers in the United States, D'Souza was a Reagan speechwriter and has six books to his name on the New York Times bestseller list, including "Letters to a Young Conservative" and "What's So Great about America."
Before the UTSA lecture, D'Souza will speak on a variety of topics at a $100-a-plate dinner. Tickets must be purchased in advance.
"While Movement for the Future is an organization based on conservative principles, the purpose of our organization is not to simply toe party lines on either side of the political spectrum," said Matthew Gates, Movement for the Future president. "We hope to open dialogue in order for students to make informed judgments about current events and controversial issues."
For more information, contact Stephanie Hendrickson, Movement for the Future public relations coordinator, at (512) 971-2232.