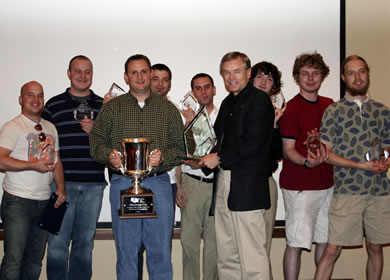 The first-place team, University of North Carolina - Charlotte, receives award
from Andy Purdy (center), Department of Homeland Security.
UTSA hosts first national cyber defense competition
By Kris Rodriguez
Public Affairs Specialist
(April 28, 2006)--The UTSA Center for Infrastructure Assurance and Security (CIAS) hosted 40 of the nation's top collegiate and military cadet cyber defense team members at the inaugural National Collegiate Cyber Defense Competition (CCDC) April 21-23 at the Hilton San Antonio Airport hotel.
The University of North Carolina-Charlotte took first place honors in the competition. Millersville University of Millersville, Pennsylvania placed second and UTSA finished third.
---
Today's headlines
Article tools
---
UNCC team captain Anthony Faust accepted the honors on behalf of his team and said, "We can now start translating down to help future UNCC teams because we know we have the teamwork, skill set and structure in place to continue to succeed in these type of competitions."
Other teams were from Southern Illinois University at Carbondale, Millersville University in Millersville, Pa., and a team of cadets representing all five military service academies. The competition featured five eight-member teams that were scored on their ability to operate and maintain a business network while under hostile cyber attack.
"UTSA is proud to be a leader in cyber security education, particularly as it relates to homeland security," said UTSA President Ricardo Romo. "Hosting this competition supports UTSA's commitment to be involved in activities that will help move the university toward premier research university status."
Andy Purdy, acting director of the National Cyber Security Division at the Department of Homeland Security (DHS), closed the three-day competition. Purdy spoke about the current partnerships between the government and private sector and said DHS is helping organize and develop plans to conduct future cyber security risk assessments.
"Exercises are an important way to improve our cyber security preparedness and having competitions like these are excellent ways to practice for the real thing," said Purdy.
"We set up networks which were functionally the same as what the students would see in the real world and the teams were given the opportunity to try and do things that you would not necessarily see in an academic environment," said Greg White, UTSA CIAS director. "We hope this exposure helps to raise the level of interest in security as a potential career and educates the students on the importance of defending the nation's critical infrastructures."
In February, UTSA was awarded $3.1 million from the 2006 fiscal year Defense Appropriations Bill to support cyber security defend-and-attack exercises and infrastructure assurance and security research.
The National CCDC is the first cyber defense competition allowing teams of college students and military cadets to apply their information assurance and information technology education in a competitive environment.
While similar to other cyber defense competitions, CCDC competitions are unique because they focus on business operations and incorporate the operational aspect of managing and protecting an existing network infrastructure.
The teams utilized an operational network from a fictional business complete with e-mail, Web sites, data files and users. Each team was required to correct problems on their network, perform typical business tasks and defend their networks from hostile activity. The teams were scored on performance in the three areas and the winners are the first National Collegiate Cyber Defense champions.
The participants advanced to the CCDC after winning regional competitions against 20 teams in the Southwest, Midwest, Mid-Atlantic and Southeast regions.
The 2006 regional competitions were modeled after UTSA's CIAS hosted the first Regional Collegiate Cyber Defense Competition in April 2005. UTSA is the first Texas university and one of 66 in the nation with the "Center for Academic Excellence in Information Assurance Education" designation by the National Security Agency.
The National CCDC was sponsored through donations and volunteer support from the Department of Homeland Security, Cisco Systems, Northrop Grumman, TippingPoint, Internet Security Systems, Acronis, International Board and Alamo Chapter of the Information Systems Security Association, ThinkGeek, Coretrace, O'Reilly Media, Pepsi, Citadel Security Software and R&L Foods.
For more information, visit the UTSA CCDC Web site or contact CIAS at (210) 458-6302.
Read a San Antonio Current story about national cyber defense competition.