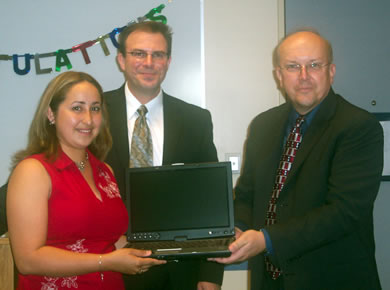 From left, student Veronica Saenz receives a Gateway laptop from
Charles Kennedy and Galen Raether.
Student Veronica Saenz wins Gateway laptop award
By Tim Brownlee
Assistant Director of Public Affairs
(May 11, 2006)--Veronica Saenz, a spring 2006 graduate-to-be in interdisciplinary studies, is the latest winner of the UTSA Office of Information Technology Laptop Award. She is the fifth winner of a Gateway computer in the award program.
Selected from graduates of the UTSA Academic Development Program (ADP), Saenz received a commemorative certificate, Gateway laptop computer, software, and carrying case at a May 4 ceremony. The Hispanic Association of Colleges and Universities (HACU) and Gateway sponsor the award each spring and fall semester.
---
Today's headlines
Article tools
---
When UTSA students, faculty and staff purchase Gateway laptop computers as part of the UTSA Student Laptop Initiative, a portion of the sales are returned to UTSA. Money placed in the fund is used to award a laptop computer each semester to an ADP student.
Family members, whom she thanked for their encouragement and support, accompanied Saenz at the ceremony. Guests included her mother, Mary Saenz, and her husband, Joseph Perez.
ADP is a bridge program between high school and college for students who are accepted to UTSA on a provisional basis; the program helps those students achieve academic success. A committee led by Cynthia Rodriguez, ADP associate director in the UTSA Tomas Rivera Center for Student Success, selected ADP students with GPAs of 2.50 and above as award finalists. Finalists were asked to submit resumes detailing their academic and work experience, and UTSA and community activities.
The award was presented by Galen Raether, UTSA director of student computing services; Charles Kennedy, Gateway representative; and Steve Rodriguez, Gateway account representative. They were joined at the presentation by Cynthia Rodriguez; Leticia Duncan-Brosnan, director of the UTSA Tomas Rivera Center; John Moder, HACU vice president and COO; Lorena Blanco, HACU director of development and marketing; and Cynthia Vela, HACU director of communications.
Saenz participated in ADP in summer 2001. She will graduate this weekend with a 3.10 GPA and has been on the dean's list for many semesters. In addition to her academic achievements, Saenz' activities include membership in the Kappa Delta Pi Honor Society, Leadership Basics Organization and the International Reading Association. Additionally, she was chairwoman of the Campus Activity Board entertainment committee and participated in workshops and seminars such as the NASA workshop and Building Custom Kids.
In addition to working since she was a freshman, Saenz volunteered in the community including religious education outreach at her church, Communities in Schools and the San Antonio Humane Society. With plans to become a teacher, she recently completed student teaching at Sinclair Elementary School.