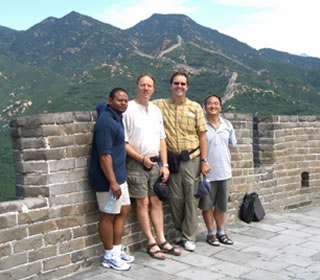 At the Great Wall of China are (from left) Floyd Wormley, Thomas
Forsthuber, Karl Klose and Jirong Liu, UTSA Ph.D. alumnus and
Beijing Great-Genius Co. research director
UTSA researchers discuss biotechnology in China
By Kris Rodriguez
Public Affairs Specialist
(Sept. 19, 2007)--Three researchers in the UTSA South Texas Center for Emerging Infectious Diseases (STCEID) are back on campus following a recent trip to Beijing, China, to discuss the field of biotechnology.
---
Today's headlines
Article tools
---
STCEID Director Karl Klose and center researchers Thomas Forsthuber and Floyd Wormley served on an external advisory panel for the Beijing Great-Genius Co.
While in China, the UTSA researchers participated in China's first International Symposium on Development of Biology and Medicine Industry.
Klose discussed his extensive research on cholera, Wormley covered his findings on Cryptococcus, a fungal pathogen and Forsthuber updated the Chinese on his research on multiple sclerosis and other autoimmune diseases.
"The participation of three scientists from the South Texas Center for Emerging Infectious Diseases in this important venture to develop the Chinese biotechnology industry demonstrates the international recognition of the scientific expertise present in the STCEID and should make UTSA proud to be represented," said Klose.
Comprised of 19 research teams led by College of Sciences faculty, STCEID is one of the leading emerging infectious disease research centers in the country, generating more than $5.3 million in research funding from the National Institutes of Health and private organizations since opening in 2005. STCEID researchers focus on critical areas of human health including anthrax, tularemia, cholera, Lyme disease, desert valley fever and other bacterial and fungal diseases.